Paramedic shortlisted for Air Ambulance Paramedic of the Year
A London Ambulance Service paramedic who helped coordinate the response to three terrorist attacks has been shortlisted as Air Ambulance Paramedic of the Year.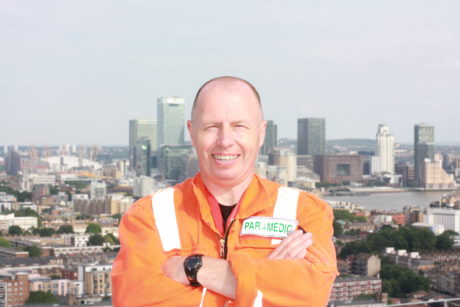 Bill Leaning, 52, is a finalist in the Air Ambulance Awards of Excellence –  winners will be announced at a gala dinner in Chelsea on Monday evening (November 13).
The advanced trauma paramedic has been recognised for the difficult decisions he had to make when dispatching teams from London's Air Ambulance to the incidents at Westminster, London Bridge and Finsbury Park.
Bill was based in the London Ambulance Service call centre when the 999 calls came in about the three terror incidents in London.
He said: "I am really honoured to be a finalist for the role I played. And it makes me proud that this nomination shines a light on the difficult job that everyone in the control room does.
"I'm used to being out on the road and being face to face with patients – so listening to calls, sat in front of six screens and on the phone to the police, fire and military is not my natural environment.
"But dealing with those calls is an absolute art."
As events were still unfolding, Bill had to decide whether to send his air ambulance colleagues into danger.
When the Westminster attack was happening, Bill worked with the Metropolitan Police to secure a landing site for London's Air Ambulance at Parliament Square – right at the scene – to ensure the paramedic and doctor team on board could start treating patients as quickly as possible.
He also had the harrowing responsibility of dispatching teams from London's Air Ambulance to London Bridge and Finsbury Park.
Natasha Wills, London Ambulance Service's Assistant Director of Operations, said: "Bill's experience and skill is not only of great benefit to his patients but also his colleagues.
"In what has been a testing year for all of us, Bill has, time and time again, acted with confidence and compassion. This award is very much deserved and we are all very proud of him."
Bill was nominated by London's Air Ambulance, which is a charity working in partnership with the London Ambulance Service and Barts Health. London Ambulance Service provides the flight paramedics and paramedics in the control room who dispatch the helicopter to incidents. Barts pays for the doctors.
Jonathan Jenkins, Chief Executive Officer of London's Air Ambulance, said; "London is incredibly lucky to have been looked after by Bill during his time with London Ambulance Service and London's Air Ambulance, not least during the past year where he demonstrated his cool head under pressure, his quick thinking, and his team mentality at an unimaginably testing time.
"He is a much loved member of London's Air Ambulance and we are so proud that his work has been recognised with this nomination."
Last year Bill received a Pride of Britain award as part of the London's Air Ambulance that performed the innovative life-saving REBOA technique to save the life of a young cyclist.
London Ambulance Service is currently recruiting paramedics to join our award-winning team. We also have vacancies in our control room for emergency medical dispatchers who deal with 999 calls.
ENDS
Notes to Editors:
For more information about this news release please contact the communications department on

[email protected]

or 020 7783 2286.
London Ambulance Service is recruiting to a number of roles. You can find our latest vacancies here. 
The Air Ambulance Awards of Excellence recognise the incredible work undertaken by all involved with the air ambulance community
The awards ceremony takes place at the Chelsea Harbour Hotel on the 13 November 2017
London's Air Ambulance is a charity that delivers an advanced trauma team consisting of a paramedic and a doctor to critically injured people in the capital. You can donate here.