Prime Minister praises bravery of ambulance staff
Ambulance crews and call takers have been honoured at Downing Street for their response to the terror attacks in London and the Grenfell Tower fire. 
The 25 London Ambulance Service staff were joined by medics from the North West for the reception hosted by Prime Minister Theresa May.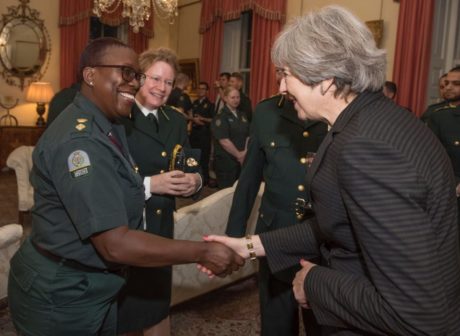 Mrs May said she was inspired by the bravery of the emergency service workers who dealt with the incidents in London and Manchester.
She said: "You are the ones who run towards devastation, while others run as fast as they can the other way.
"And every day you go to work knowing you could be called on to face things which most of us would never want to confront."
Police and firefighters from both London and Manchester also attended last night's event.
London Ambulance Service Director of Operations Paul Woodrow said: "The London Ambulance Service has been tested this year like never before but I have seen the whole organisation pull together to ensure a truly professional response to some terrible events.
"This reception is recognition of the fantastic work all the emergency services do. We plan together and we train together and that is why we are able to deliver such a robust and effective response to major incidents. This is testament to the commitment of our staff to caring for patients."
Control room manager Cathy-Anne Burchett was among those who had the opportunity to talk to the Prime Minister.
She said: "It was a great honour to represent the thousands of people who have shown admirable resilience in some extraordinarily tragic circumstances."
The Prime Minister thanked ambulance staff on behalf of the whole country.
Paramedic Gary Edwards, 30, a first responder at London Bridge, said: "Since that night I have really noticed that Londoners want to show their appreciation for the job we do. It can be a difficult job so when people want to thank us it does make a difference. I feel proud of the whole service."
Advanced paramedic Keir Rutherford, 35, who also attended London Bridge said: "I feel very privileged to have been invited to Downing Street. It was a team effort and what we did on the bridge made a significant difference to the lives that were saved. I saw a lot of people acting very bravely: people risking their lives. But it was not being heroic, it was people doing their jobs." 
Paramedic Sarah Galka, 31, a new recruit from Australia, had only been on the job two months when she attended Grenfell. She said: "It was very daunting but I just wanted to do everything I could to help people. I feel so proud to be part of the service and coming to 10 Downing St, I feel proud to represent the entire service. Everyone does a tremendous job and in the aftermath, there is so much support – incidents like this bring us closer together."
Emergency Medical Dispatcher Hamza Khan, 30, who answered 999 calls about the Westminster attack, said: "At first we thought we were taking calls about a traffic incident so when we began to realise this was a terror incident, it was so shocking. But whatever we are feeling we have to remain calm and positive with the callers. We are there to give reassurance and confidence. I'm proud of how London Ambulance Service responds to these events. We have been tested but this is what we are trained for."
Ends
Notes to editors:
For more information about this news release please contact the communications department on [email protected] or 020 7783 2286.
Photo caption: Control room manager Cathy-Anne Burchett and Deputy Director of Operations Pauline Cranmer meet Prime Minister Theresa May. (Please credit Prime Minister's Office).
For more photos and high res version of photo attached please see https://www.flickr.com/photos/number10gov/