Ambulance crews prepare for Notting Hill Carnival
London Ambulance Service is stepping up its preparations for Notting Hill Carnival, and encouraging Londoners to stay safe this bank holiday weekend.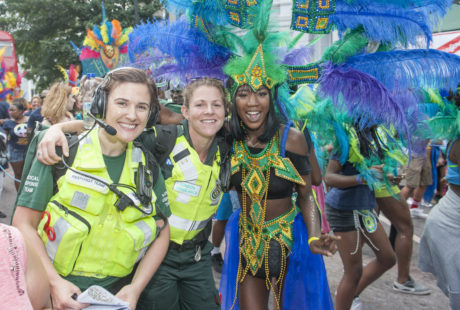 Around 160 frontline and control room staff will work on the Sunday and 180 on the Monday, with clinicians out on the streets responding to emergencies on foot while carrying specialist equipment including defibrillators.
The Service will work alongside St John Ambulance and colleagues from other ambulance trusts during the carnival (Sunday 27- Monday 28 August) to staff nine treatment centres and provide medical assistance to hundreds of patients.
Tactical Commander for the event Paul Gates said: "As ever we want Londoners to stay safe while having fun at the carnival.
"Last year we treated over 1,000 patients and we're expecting this year to be just as busy. I'd urge those attending the carnival to drink alcohol sensibly and avoid illegal substances. We respond to around 150 alcohol-related incidents alone at carnival, so please look after your friends and make sure they get home safely and don't end up in the back of an ambulance. Carnival-goers are also encouraged to wear sensible footwear, carry their medication with them and drink plenty of water."
Those feeling unwell or who are injured should request directions and make their way to one of the nine treatment centres which have been specifically set up for the carnival, rather than dialling 999.
Ambulance staff will also take part in the minutes' silence at 3pm on both days to remember the victims of the Grenfell Tower fire.
Paramedic Dominic Stark, who responded to the tragic events in June and is working at this year's carnival, said: "It's right that we take a moment among the hustle and bustle of the carnival to think about those affected by the Grenfell fire and the impact it's had on the community."
ENDS
Treatment centre locations
East Row @ Conlan Street
Southam Street @ Golborne Road
Westbourne Park bus garage (inside)
St Charles Square (North Side) @ Ladbroke Grove
Lancaster Road @ Ladbroke Grove
Denbigh Terrace @ Denbigh Road
Kensington Park Road @ Pembridge Road
Tavistock Crescent @ St Luke's Road
St Stephen's Gardens (east side Chepstow Road)
Notes to Editors
A spokesperson is available for interviews, please contact the communications department on 020 7783 2286.
For live updates of the work of our staff, follow us on Twitter at www.twitter.com/ldn_ambulance using #Carnival and #NotAnAmbulance
160 staff will work at carnival on Sunday 27 August and 180 on Monday.
Visit us on Facebook at www.facebook.com/londonambulanceservice