London Ambulance Service marks 100,000 followers milestone
London Ambulance Service has today (15 August) reached 100,000 followers on Twitter – making it the most popular NHS Trust account in the UK.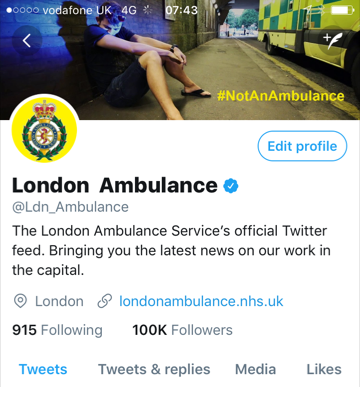 The @Ldn_Ambulance account was set up in 2009 to share news directly with patients, Londoners and stakeholders and to keep people informed about major incidents across the capital.
Chief Executive Garrett Emmerson said: "It's not just about sharing the latest updates from the scene of incidents; we use Twitter to recruit the best staff, give health care advice, influence how people use the 999 system and promote the clinical skills and expertise of our staff.
"We want to thank all our followers for their support and their interest in the Service. From likes, retweets and messages of praise, it means a lot to our ambulance crews, control room and support staff."
The Service's use of social media is continuing to expand and it now has specialist and local borough accounts on Twitter as well as Instagram, Facebook and a YouTube channel.
Garrett added: "The way people get their news has rapidly changed in the last few years. Social media channels like Twitter makes us much more accessible and accountable and allows us to engage directly with our audience.
"Evaluation of our campaigns shows that Twitter is also one of the most effective ways to influence behaviour. Our social media campaigns have helped double the number of applications to work for the Service as well as reduce alcohol related demand.
"We will continue to invest in our social media channels, giving our followers an insight into what it's like to be a part of the UK's busiest ambulance service."
Since its launch the Services has posted nearly 16,000 tweets; with the most popular featuring statements following the attacks on London Bridge, promoting the Service's commitment to our LGBT workforce and giving a nod to #InternationalCatDay.
In celebration of the milestone, the Service has released a celebratory film featuring staff across the organisation thanking followers for helping them to reach the 100,000 mark.
Ends
Between May 2017-July 2017, @Ldn_Ambulance had on average 7 million impressions and 5,000 mentions per month.
London Ambulance Service NHS Trust is the busiest emergency ambulance service in the UK that provides healthcare that is free to patients at the time they receive it.
We have over 4,500 staff, who work across a wide range of roles based in 70 ambulance stations.
We serve more than eight million people who live and work in the London area.
For more information, media enquiries or interview requests please contact the Communications Team on 020 7783 2286 or

[email protected]