Life-saving defibrillators rolled out across London thanks to emergency services partnership
An initiative led by London Ambulance Service and Metropolitan Police Service which sees defibrillators added to over 700 police response vehicles and police stations across the Capital, is being rolled out from today (10 July).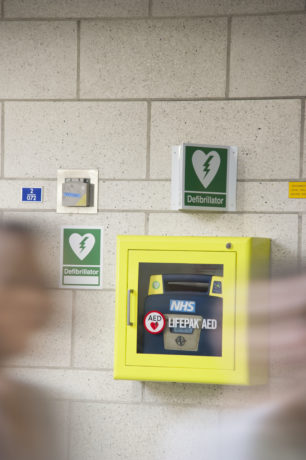 The life-saving equipment, which is used to restart the heart when someone is in cardiac arrest, will allow police officers to respond to life-threatening emergencies alongside ambulance crews and see even more public access defibrillators on London's streets.
Chris Hartley-Sharpe, Head of First Responders at London Ambulance Service said, "Every second counts when someone is in cardiac arrest. The only way to restart a heart is with a defibrillator so the sooner one arrives with someone trained to use it, the better the outcome for the patient.
"While we will always send an ambulance response as a priority, by working together with the police service we can ensure patients in cardiac arrest receive vital treatment as quickly as possible."
As part of the initiative, police officers equipped with defibrillators, who are available to respond, will be alerted to a potential cardiac arrest at the same time as ambulance crews, which means that if they reach the patient first, or are already on scene, they can begin providing life-saving treatment until a skilled clinician arrives.
Based on results from the pilot, it is estimated the scheme could save dozens of lives each year.
Sue Warner, Strategic Health & Safety Adviser from the Metropolitan Police Service said: "We are delighted to be working with the London Ambulance Service to save lives across London.  Equipping our response team vehicles and station offices with this essential life saving equipment will enable over 1320 officers to respond to these critical life or death emergency calls. "
This initiative is the latest to be supported by the London Ambulance Service to increase cardiac arrest survival rates in the Capital. Between 2012 – 2017 the number of public access defibrillators in London has increased by 350 per cent as a result of work by the Service to raise awareness and availability of defibrillators.
Recently, the Service embarked on an exciting new partnership with the internationally acclaimed GoodSAM app, in which clinically trained ambulance staff and members of the public trained to an approved standard are able to sign up as volunteers to respond to life-threatening emergency calls, including cardiac arrests.
ENDS
Notes to Editors
A phased rolled out will take place from 10 July 2017 – November 2017:
Already live (pilot areas): Croydon, Enfield, Ealing, Havering
10 July:           Barking and Dagenham, Redbridge, Hillingdon
24 July:           Waltham Forest, Sutton, Bromley
7 Aug:             Hounslow, Barnet, Lewisham
21 Aug:            Brent, Haringey, Kingston Upon Thames
4 Sept:             Harrow, Lambeth, Bexley
18 Sept:           Hammersmith and Fulham, Greenwich, Richmond Upon Thames
2 October:       Kensington and Chelsea, hackney, Tower Hamlets
16 October:     Westminster, Camden and Islington, Merton
30 October:     Newham, Southwark, Wandsworth
This is a dual-response initiative which looks to improve a person's chance of survival when in cardiac arrest. If a 999 call received into London Ambulance Service's control room meets a set criteria, both the LAS and the MPS will be dispatched to the incident at the same time.
The response by the police is additional, and does not replace an ambulance response. London Ambulance Service will continue to respond to any call as quickly as possible, even where a police officer is dispatched.
The police will only respond to cardiac arrest incidents when they have capacity, as determined by the MPS control room
London Ambulance Service NHS Trust is the busiest emergency ambulance service in the UK that provides healthcare that is free to patients at the time they receive it.
We have over 4,500 staff, who work across a wide range of roles based in 70 ambulance stations. We serve more than seven million people who live and work in the London area.
 For more information, media enquiries or interview requests please contact us on  020 7783 2286 or

[email protected]
Follow us on Twitter and like us on Facebook for the latest news and information