London Ambulance Service leads the way at Pride in London
London Ambulance Service will be joining the Mayor of London and other emergency services to officially start the Pride in London parade this Saturday (8 July).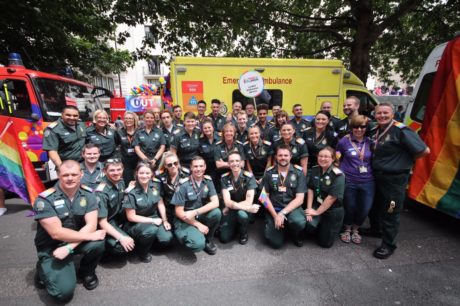 In recognition of the lifesaving work of ambulance staff, at recent major incidents, organisers have invited London's emergency services to kick start the event.
Alex Ewings from the London Ambulance Service LGBT Forum, said: "As a gay friendly employer we have been a proud supporter of Pride in London for many years but it is a real honour to be invited to officially start the event."
Michael Salter-Church MBE, Co-Chair of Pride in London, said: "Over the last few weeks the whole of the country has seen how magnificent our emergency services are.  We in Pride already knew this from having worked with London Ambulance Service for five years. Over that time we've appreciated their advice and the steps they have taken to keep our volunteers and participants safe."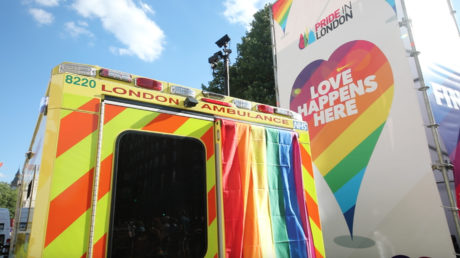 Over 40 of London Ambulance Service's ambulance crews, control room staff and support services teams, are set to join the Pride in London parade through the capital.
Alex continued:  "We're thrilled to be a part of the Pride in London parade again this year. We've been overwhelmed by the support we've had from Londoners over the past few months. We're incredibly proud to be part of an accepting organisation with such a large LGBT workforce.
"London is an amazing city and the theme #LoveHappensHere is incredibly relevant right now, so we're looking forward to celebrating this weekend."
As well as joining the parade, the Service is also providing medical cover for the event. Five treatment centres will be set up at event hotspots, with almost 150 medics available to treat those in need of medical help.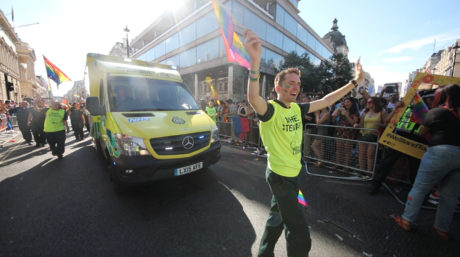 Mobile medical response teams will also be out on foot in the busiest areas, carrying all the kit they require for medical emergencies and a special operations centre will be set up to manage the incident, manned by a team from our control room.
Last year, the Service treated 86 patients and took 25 of them to hospital for further treatment.
Consultant Paramedic Paul Gates, who is responsible for the event's medical cover said: "We want everyone to have a good time but we're asking everyone out celebrating at Pride to take some simple steps to keep themselves safe.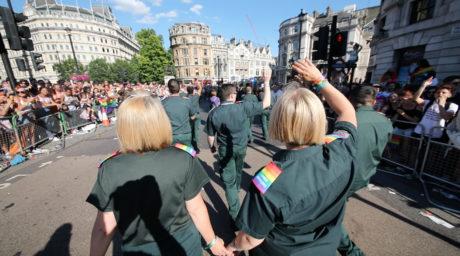 "The weather is expected to be warm in London over the weekend, so we'd encourage anyone who is out and about in the city to apply sunscreen regularly and spend some time in the shade.
"By doing this, and by drinking sensibly throughout the day, avoiding drugs, and planning your journey home in advance, you can make sure you don't end their night in the back of an ambulance.
"Spectators who feel unwell or have minor injuries or illness are encouraged to make their own way to one of the treatment centres within the event area. This will be the quickest way to access medical help."
There are five treatment centres in the event area:
Upper John Street (at the junction with Golden Square)
Pall Mall East – near Trafalgar Square
Leicester Square
Frith Street (at the junction with Shaftesbury Avenue)
Soho Street (at the junction with Oxford Street
ENDS
Notes to Editor
We'll be tweeting live from the Pride parade on Saturday 8 July @Ldn_Ambulance. Follow us on Twitter and like us on Facebook for more information.
London Ambulance Service NHS Trust is the busiest emergency ambulance service in the UK that provides healthcare that is free to patients at the time they receive it.
We have over 5,000 staff, who work across a wide range of roles based in 70 ambulance stations.
We serve more than nine million people who live and work in the London area. We take over 1.8 million emergency calls a year.
For more information please contact the Communications Team on 020 7783 2286 or

[email protected]