Patients receiving 'outstanding care' from London Ambulance Service
Patients in the capital are receiving 'outstanding' care from London Ambulance Service according to the Care Quality Commission (CQC) report published today (29 June).
The report commends the 'care and compassion' provided by ambulance crews who 'go the extra mile' for patients. CQC also acknowledged the unimaginably difficult circumstances ambulance crews have worked in during the last few months when they have treated patients at the Grenfell Tower fire and after terrorist attacks at Westminster Bridge, London Bridge and Finsbury Park.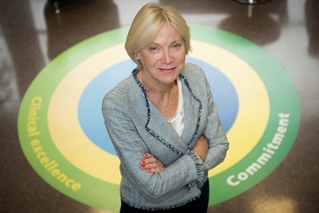 Hazardous Area Response Team paramedic Gemma Taylor, who responded to the London Bridge attack and the fire at Grenfell Tower, said: "It can be a really testing job – these types of incidents affect everyone who is involved. But we do this job because ultimately we want to help patients and their families and I'm incredibly proud of what I do. It's amazing to know you've made a difference."
Improvements have been made in every one of the five inspected areas and the Service has moved up a rating to 'requires improvement'. The report recognises sustained progress has been made since the last inspection in February 2017, including significant improvements in emergency preparedness resilience and response. Our response to our most seriously ill and injured patients has also improved and by the end of April we were the top performing ambulance service in the country for reaching these patients within eight minutes – against a backdrop of record demand.*
Chairman Heather Lawrence, OBE, said: "We're delighted and proud that CQC recognise the significant improvements since we were first inspected and we have made further improvements since February. I'd like to thank all our staff on the frontline, in the control room and those in support roles for everything they have done to improve our service to patients over the last two years.
"As the nation witnessed during recent events in London, ambulance staff are always ready to respond in often very difficult circumstances and we are pleased CQC has recognised the outstanding care we provide, as well as many other improvements."
Despite increasing demand the Service is reaching patients more quickly than a year ago and is one of the better performing trusts in the UK.*
Heather added: "We recognise there is still work to do over the next few months.
"The Trust Board, our new chief executive and his executive leadership team are completely focussed on addressing the key actions highlighted in this report. We will continue to work with our NHS partners and all our staff to continue making the improvements required."
Read the report in full on the CQC website.
Ends
Notes to editors:
CQC inspectors looked at three core services: the Emergency Operations Centres (EOC), emergency and urgent care (EUC), and the Emergency Preparedness, Resilience and Response (EPRR).
The CQC rated our NHS111 service as Good in every domain in January 2017.
*Between 1 April and 4 June 2017, we reached 73% of seriously ill and injured patients (Category A) against a national target of 75%. This meant that of those ambulance services nationally being measured on the A8 and A19 criteria, the London Ambulance Service was the highest performing in the country.
London Ambulance Service receives 1.9 emergency calls a year and responds to 1.1m incidents in the capital.
Follow us on Twitter at www.twitter.com/ldn_ambulance or visit us on facebook at www.facebook.com/londonambulanceservice