Paramedic who apprehended a violent criminal is awarded police commendation
A paramedic working in Whipps Cross has received a police commendation after apprehending a suspect who assaulted a police officer and then attempted to flee the scene.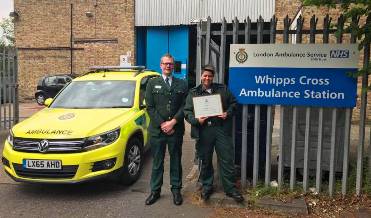 Priscila Currie, 34 from Leyton, was driving down Hoe Street, E17 while on duty on 29 March when she saw a man acting violently toward two police officers.
She recalls, "I remember seeing the man lash out at one of the police officers and thought I better pull over to see if they needed any assistance.
"As I got out of the car I could see that the man was resisting arrest and they were attempting to handcuff him. As I went over to help, the man pushed himself and the officer over a wall.
"My instinct reaction was to jump over the wall after them and I could see that one of the police officers had his arms trapped underneath the suspect and was unable to handcuff him. At that point, I managed to apprehend the suspect and keep him still long enough for the other officer to arrest him. Then, within seconds, more officers arrived to take over.
"In the moment, you don't think about your own personal safety – you just want to do what's right."
An officer from the Metropolitan Police Service said: "Although my colleague and I only sustained minor cuts and bruises, which Priscila cleaned up and put plasters on, this would have been much worse if she had not helped us and our injuries could have been far worse.
"She did not have to do this and we are eternally grateful for her help."
Priscila, who has worked for London Ambulance Service for five year and been a paramedic for the last three years, was nominated for a police commendation for her efforts and was presented her award at a ceremony in London on Thursday 11 May. The commendation recognises the professionalism, team work, bravery and quick thinking of recipients.
Speaking of the award, Priscila said; "I never expected to receive an award for my actions – I was just trying to help. Across the emergency services, we all feel like family and you do everything you can to support each other.
"The ceremony was fantastic; it was an incredibly proud moment and I had a huge smile on my face the whole day."
Ends
London Ambulance Service NHS Trust is the busiest emergency ambulance service in the UK that provides healthcare that is free to patients at the time they receive it.
We have over 5,000 staff, who work across a wide range of roles based in 70 ambulance stations.
We serve more than nine million people who live and work in the London area. We take over 1.8 million emergency calls a year.
For more information please contact the Communications Team on 020 7783 2286 or

[email protected]