Firefighter grants paramedic a final goodbye with fiance
The partner of a former ambulance medic has said an emotional 'thank you' to the man who resuscitated him after he went into cardiac arrest, giving his family time to say their final goodbyes.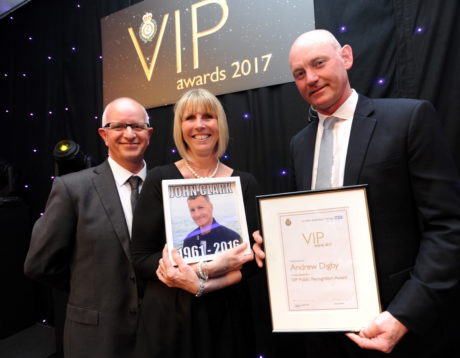 Carol Hope Simpson, who retired from London Ambulance Service last month after 20 years as a paramedic, presented a public recognition award to Andy Digby, who gave CPR to her fiancé John Clark in July last year.
John was doing some building work for a friend when he collapsed and stopped breathing. His good friend Andy immediately started basic life support until an ambulance crew arrived.
Carol, 55, from Catford, said: "Sadly, John died just 18 days before we were due to get married and while the circumstances about what happened are horrific, I will be eternally grateful for what Andy did as it must have been incredibly hard for him."
Carol and John were crewmates working out of Coulsdon ambulance station and were due to retire in January to sail around the Greek islands.
Andy, a firefighter for London Fire Brigade, said: "It was a very difficult time – nobody wants to be in that situation, it's just a shame we couldn't do more for John. I am first aid trained and so knew what to do and in my view, the more people who know how to do CPR the better."
Andy's efforts helped towards getting John's heart beating again and he was taken to hospital where he lived another two days, allowing his family to say goodbye.
Andy was given a public recognition award at the London Ambulance Service VIP awards ceremony.
Clinical Team Leader Terry Healy, who worked with John for 20 years, nominated Andy for the award. He said: "I nominated him because of his commitment and instinct to doing all he could to save his friend and he truly deserves this recognition."
Ends
Notes to editors
London Ambulance Service NHS Trust is the busiest emergency ambulance service in the UK that provides healthcare that is free to patients at the time they receive it. • We have over 5,000 staff and serve more than nine million people who live and work in the London area. We take over 1.8 million emergency calls a year. • For more information please contact the communications team on 020 7783 2286 or

[email protected]