London Ambulance Service appoints new Chief Executive
Today (21 April 2017) London Ambulance is pleased to announce that Garrett Emmerson has been appointed as its new Chief Executive.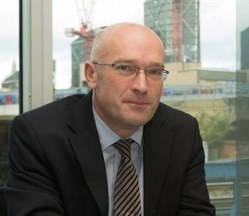 Garrett, who was previously Transport For London's Chief Operating Officer for Surface Transport, will take up the role on 30 May.
London Ambulance Service Chairman, Heather Lawrence OBE, said: "Garrett brings a wealth of experience of management, leadership and logistics in the capital.
"He'll work with me, the board and executive colleagues to build on improvements we have already made for the benefit of our patients."
Garrett said: "I am tremendously pleased to be joining the Service at such an important time for the organisation and am looking forward to the challenges and meeting frontline, support and control room staff and learning more about the valuable jobs they do to care for Londoners every day."
Andrew Grimshaw – who has been undertaking the role of Chief Executive since Christmas – will be leaving the Service in June to become the Chief Financial Officer at St George's University Hospitals NHS Foundation Trust.
Heather said: "I'd also like to thank Andrew for taking on the role since Christmas and wish him every success in his new appointment."
Andrew said: "It has been a privilege to lead the organisation in recent months and I will be very sad to leave, but I'm looking forward to the opportunity to lead the finance function at a major London teaching hospital."
ENDS
Garrett joined TfL in 2008 and was appointed Chief Operating Officer of Streets and Traffic in 2009.
Garrett was previously a director at Steer Davies Gleave and is a former Director of Transportation at Buckinghamshire County Council
London Ambulance Service NHS Trust is the busiest emergency ambulance service in the UK that provides healthcare that is free to patients at the time they receive it.
We have over 5,000 staff, who work across a wide range of roles based in 70 ambulance stations.
We serve more than nine million people who live and work in the London area. We take over 1.8 million emergency calls a year.
For more information please contact the Communications Team on 020 7783 2286 or

[email protected]