Stock up on medication ahead of the long weekend, warns ambulance service
As Londoners prepare for the bank holiday break, the capital's ambulance service is reminding them to check they have enough medication to see them through the long weekend.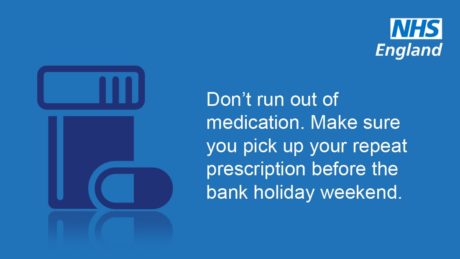 Patients with long term health conditions can be more vulnerable to illnesses, particularly if their prescription medication runs out. And, whilst NHS 111 will be open throughout the holiday period, some pharmacies and GPs will be closed.
Dr Fenella Wrigley, Medical Director at London Ambulance Service said:
"We want Londoners to enjoy the weekend. While chocolate treats will be top of the shopping lists, we are encouraging everyone to check they have adequate medication to see them through the four-day break. Also, please consider over the counter medicines to relieve the symptoms of upset stomachs, coughs and colds."
During the four-day Easter period last year (25-28 March 2016), London Ambulance Service responded to 12,039 incidents across the capital.
Dr Wrigley added: "As ever, we're expecting a very busy weekend and we're urging Londoners to help us by only calling for an ambulance in a genuine emergency. As always we will prioritise our sickest patients and those with less serious illnesses and injuries will wait longer."
Ends
Notes to Editor
London Ambulance Service NHS Trust is the busiest emergency ambulance service in the UK that provides healthcare that is free to patients at the time they receive it.
We have over 5,000 staff, who work across a wide range of roles based in 70 ambulance stations.
We serve more than nine million people who live and work in the London area. We take over 1.8 million emergency calls a year.
For more information, media enquiries or interview requests please contact the Communications Team on 020 7783 2286 or

[email protected]