Card launched to improve safety of expectant mothers
A simple card designed to give guidance to midwives when to call for an emergency ambulance is being launched with the aim of saving more babies' lives.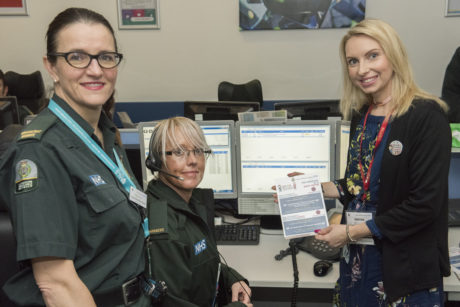 London Ambulance Service Consultant Midwife Amanda Mansfield has worked with Heidi Eldridge of MAMA Academy to produce the card, which will be sent out to midwives working in stand-alone birth centres and attending homebirths in London.
Amanda said: "Our ambulance crews attend an average of 15 calls a month from midwives at birth centres or home births and some concerns were raised about when they should call for an ambulance and exactly what information is needed.  So we've worked with the midwife community and Heidi to produce these cards so that communication between midwives and our emergency call takers is clear and the appropriate help is sent.
"We hope this card will not only improve the safety of pregnant women, but mean help will get to them quicker and even if this card helps to save one life then it's worth it."
Heidi Eldridge, MAMA Academy Chief Executive, said: "MAMA Academy is delighted to be working alongside the London Ambulance Service to ensure that the safety of mothers remains a key priority. Our ambulance cards are a simple initiative designed to help more babies arrive safely and we hope to expand this exciting project across the country later in the year."
The initiative is also supported by The Royal College of Midwives. Chief Executive Cathy Warwick said: "We very much welcome the launch of the midwives communication card. Any effort or initiative that goes toward improving safety for mothers and babies must be commended.
"Midwives attending home births and working in birth centres across London will find the information on this card beneficial as it will enable them to make communications with emergency call takers more efficient, ensuring the right support is dispatched and ultimately get mother and baby the emergency care they may need in the most efficient time."
Ends
Notes to editors
For more information about this news release or London Ambulance Service contact the communications department on 020 7783 2286.
Executive Heidi Eldridge (right) with Paramedic Adele Romita, who takes emergency calls from midwives.
MAMA Academy is a pregnancy charity working alongside NHS England and The Royal College of Midwives with the aim of preventing baby loss in the UK. The charity paid for the production of the cards. For more information visit http://www.mamaacademy.org.uk/