'Fate' brings man together with paramedic who helped save his life
A Bromley man had a chance encounter with the paramedic who helped to save his life three years after he almost died.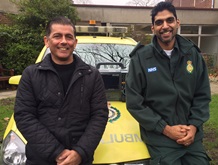 Steve Bird, from Bromley, has suffered with asthma for years and had been diagnosed with a chest infection, when he began struggling for breath at home in March 2013 and called for an ambulance.
He said: "I thought I was dying as I couldn't breathe in or out and couldn't speak to the ambulance call taker but managed to keep calm and get the door open. I don't remember much after that, only the paramedic's voice talking to me after he brought me round."
Trainee Tutor Kevin Perera was the first paramedic on the scene, ahead of the ambulance crew, and started to treat Steve. He was taken to Lewisham Hospital, transferred to the intensive care unit where he was put in an induced coma. He was in hospital for a total of two and a half months and diagnosed with double pneumonia.
Almost three years later, Steve was attending a British Lung Foundation meeting which was chaired by London Ambulance Service and little did he know that he was sitting next to the paramedic who helped to save his life.
Kevin, who also lives in Bromley, said: "Steve said he recognised my voice and a colleague looked into it and found out that I was the first responder who treated Steve. I still find it hard to believe – it must be fate that so many things were aligned that day in order for us to meet again – three years down the line! It's fantastic to see him again and looking so well, considering what an ordeal he's been through. I don't feel I can take all the credit. It's my training that enabled me to help him and I'm very proud to work for the ambulance service."
Steve added: "I wouldn't be here if it wasn't for Kevin and his colleagues. I have mixed emotions – I'm happy and grateful because I'm alive but it's also a very strange feeling – not many people can say they've met the person who saved their life."
Since the chance encounter, the two have remained in touch.
ENDS
Notes to Editors
London Ambulance Service NHS Trust is the busiest emergency ambulance service in the UK that provides healthcare that is free to patients at the time they receive it.
We have over 5,000 staff, who work across a wide range of roles based in 70 ambulance stations.
We serve more than eight million people who live and work in the London area.
We take over 1.8 million emergency calls a year.
For more information, media enquiries or interview requests please contact the Communications Team on 020 7783 2286 or

[email protected]