Innovator behind London's cycle paramedics praised at Healthcare Heroes exhibition
London Ambulance medic Tom Lynch MBE who set up the capital's cycle response unit has been hailed as a Healthcare Hero, in an exhibition at the British Medical Association.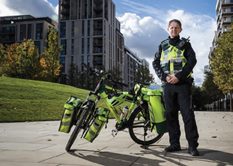 The Cycle Response Unit Manager and former BMX champion created the city's first cycle response unit, a team of paramedics fully trained to treat patients and provide life-saving interventions alone in busy areas which are difficult to travel through in a car or ambulance.
Tom says: "It's an honour to be recognised in the Healthcare Heroes exhibition alongside others working in our industry.
"London is an incredibly busy city, which is why I knew sitting in my ambulance that the cycle response unit would be so successful. They are able to reach patients quickly and start to give life-saving treatment while an ambulance is on the way or free up the ambulance if not needed. The dedicated cycle teams patrol and stay in the busiest areas waiting for an emergency call.
Our cycle paramedics carry all the equipment they need to enable them to respond to emergency calls, and can often reach patients faster than ambulances in congested areas of the capital. We now have teams in the West End, the City of London, Stratford, Kingston & Richmond, Heathrow Airport and at train stations such as Kings Cross & St Pancras and London Bridge.
At the exhibition I met just one of our cardiac arrest survivors who at 29yrs old had a cardiac arrest in Oxford Street, one of my cycle team arrived first on scene and shocked her back to life. It was an emotional and humbling experience."
The  cycle response unit which was launched as a trial in 1999 in the capital's West End, is now made up of over 50 paramedics working all over London.
Paul Woodrow, Director of Operations says:
"In the last five years alone, our cycle paramedics have cared for over 76,000 patients, from those with relatively minor complaints through to life-threatening conditions.
"Over 50 per cent of the patients they see are treated on scene, meaning they are able to deal with the incident alone and save the use of vital ambulance crews."
ENDS
Notes to Editors
Find out more about Tom's story here.
London Ambulance Service NHS Trust is the busiest emergency ambulance service in the UK that provides healthcare that is free to patients at the time they receive it.
We have over 5,000 staff, who work across a wide range of roles based in 70 ambulance stations.
We serve more than eight million people who live and work in the London area.
We take over 1.8 million emergency calls a year.
For more information, media enquiries or interview requests please contact the Communications Team on 020 7783 2286 or

[email protected]