London Ambulance Service 111 call centre rated 'good' by health regulator
The 111 service providing health advice to people in south east London has been rated 'good' by the Care Quality Commission (CQC).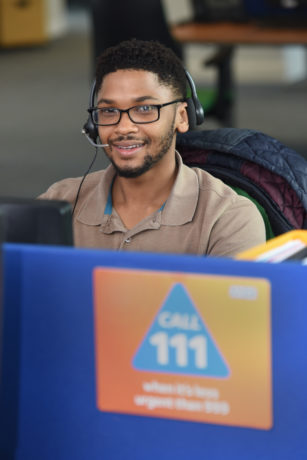 London Ambulance Service staff have been praised for providing 'a safe, caring, responsive and well led service' in the health regulator's report released today (Friday 20 January) following an inspection of the 111 service in September.
Chair Heather Lawrence said: "We're delighted the kindness and respect and quality of care our staff provide to patients who call 111 has been recognised by the CQC. The report also highlights that patients are treated with compassion, dignity and respect, which is all against a backdrop of an increase in calls of almost a third from this time a year ago."
Last year*, 316,200 calls were taken by the 111 service, with December being the busiest month ever – with 29 per cent more calls than the previous December. An average of 750 calls are taken on a week day, peaking at around 2,000 on bank holidays.
A second CQC report published today has confirmed that the Service has met the requirements set out in the warning notice it received in October 2015 after improvements were found during a follow-up inspection last summer. Whilst action had been taken to increase frontline staffing numbers, and a new reporting system had started to see an increase in incident reporting, the CQC said further progress was needed, particularly in relation to how drugs were managed by the organisation.
Heather added: "We have made some major improvements including recruiting over 700 frontline staff and bolstering our hazardous area response team. We've set up an electronic reporting system, which has seen an increase in the number of incidents reported by staff. And we've acted on the CQC's recent requirements to improve how we manage our drugs, though we recognise there's still more work to do in this area."
Improvements already made to the way drugs are managed across the organisation include recruiting a full-time pharmacist, improving the system for recording details of what drugs have been given to patients, and introducing a digital audit system to trace and track the use of drugs by clinicians.
– ENDS –
Notes to editors
* Total calls for January to December 2016.
The full reports from both inspections will be available on the CQC website from Friday 20 January at www.cqc.org.uk
The CQC will return to inspect the Service on 7-9 February.
The follow up inspection took place on 2 and 3 August 2016
The 111 inspection took place on 29-30 September 2016.
The hazardous area response team (HART) was formed in 2006 as part of the ambulance service's response to a major incident. The aim of HART is to deliver clinical care in environments that paramedics historically could not enter. This includes the 'hot zone' of chemical incidents, collapsed structures, flooding, at height or confined space.
For more information about this news release or the London Ambulance Service contact the communications department on 020 7783 2286.