Don't get caught out in the cold, warns London Ambulance Service
With a cold snap predicted in the capital, London Ambulance Service is advising the public to look after themselves and others, as it prepares for an increase in emergency calls.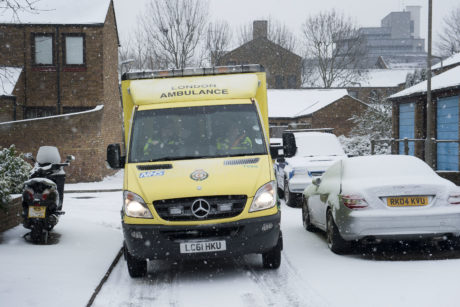 As the Service continues to face unprecedented demand, it expects to treat even more patients for winter illnesses such as breathing difficulties, flu-like symptoms and chest infections as well as seeing a rise in the number of falls, as Londoners brave the icy conditions.
Dr Fenella Wrigley, Medical Director at London Ambulance Service said: "During the cold weather, we continue to prioritise our most seriously ill and injured patients. Londoners can help us by only calling for an ambulance in a genuine emergency and visiting their pharmacist or contacting NHS 111 for less serious illnesses or injuries."
The Service is also offering advice to Londoners, to help them stay well this winter.
Dr Wrigley continued: "Patients with minor illnesses such as coughs and colds should seek advice from their pharmacist as soon as possible, to prevent their condition from worsening.
"We'd also advise people with long-term conditions to ensure their medical cabinets are well stocked and that they carry any medication they need with them.
"For Londoners who are out and about in the capital, we're asking them to make sure they stay wrapped up in warm clothing and wear sensible footwear, to prevent them slipping on icy pavements.
"By looking after themselves, and checking on elderly relatives or neighbours who may be more vulnerable, Londoners can help us as we continue to respond to life threatening emergencies."
ENDS
Notes to Editors
London Ambulance Service NHS Trust is the busiest emergency ambulance service in the UK that provides healthcare that is free to patients at the time they receive it.
We have over 4,500 staff, who work across a wide range of roles based in 70 ambulance stations.
We serve more than eight million people who live and work in the London area.
For more information, media enquiries or interview requests please contact the Communications Team on 020 7783 2286 or

[email protected]

Follow us on Twitter and like us on Facebook for the latest news and information.