London Ambulance medic honoured with Queen's Ambulance Service Medal
A London Ambulance Service medic, who helped saved countless lives in major incidents and played a key part in the capital's response to the Olympic Games in 2012, has been awarded the prestigious Queen's Ambulance Service Medal in the New Year's Honours List.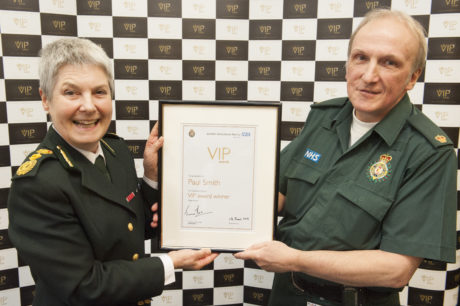 Paul, who has spent over forty years saving lives in London, was also recognised by colleagues for his continual commitment to patient care and staff progression as part of his role as a sector delivery manager.
Speaking of his award, Paul said: "Starting out in the Service as a young boy from Tooting, I never would have expected to receive an award from HM the Queen.
"Over the last forty years, it has been an honour to work alongside our emergency service family and to see the members of staff I have helped to develop move on to greater things.
"It was a real shock to have been awarded the Queen's Ambulance Service Medal and I'm incredibly humbled to receive such high recognition for my career with the Service."
The award praised Paul's commitment to London Ambulance Service, highlighting his involvement in responding to major incidents and events including the London Olympic Games in 2012.
Peter McKenna, Deputy Director at the London Ambulance Service said: "Paul has spent two thirds of his life dedicated to serving the population of London, saving countless lives.
"During his time with the Service, he has also strived to ensure the continuous improvement and development of his colleagues, playing a key role in introducing formal management training. We are very pleased that his efforts have been recognised in the New Year's Honours List."
Paul will be invited to attend a ceremony at Buckingham Palace later in the year to receive his award from Her Majesty the Queen.
The Queen's Ambulance Service Medal (QAM) honours a very small, select group of ambulance crews and control room staff who have shown exceptional devotion to duty, outstanding ability, merit and conduct in their roles within NHS Ambulance Services.
ENDS
Notes to Editors
London Ambulance Service NHS Trust is the busiest emergency ambulance service in the UK that provides healthcare that is free to patients at the time they receive it.
We have over 4,500 staff, who work across a wide range of roles based in 70 ambulance stations.
We serve more than eight million people who live and work in the London area.
For more information, media enquiries or interview requests please contact the Communications Team on 020 7783 2286 or

[email protected]

Follow us on Twitter and like us on Facebook for the latest news and information.