Londons Ambulance urges people to Eat Drink and Stay Safe on the busiest night of the year
As London's Ambulance prepares for the busiest night of the year, the Service is asking revellers to have a safe night out and only call 999 for genuine emergencies.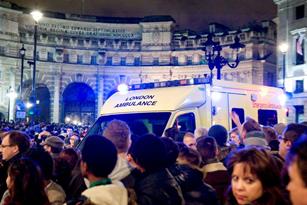 The Service is running two 'booze buses' – patient transport vehicles with paramedics responding to alcohol-related incidents only – across Central London to look after people who have had too much to drink.
Assistant Director of Operations Pauline Cranmer said: "It will be an extremely busy night for us across the capital with our call takers answering hundreds more emergency calls than usual and our medics out in teams on the streets, working with colleagues from St John Ambulance, to help those at the central London celebrations."
"Many of the people we're called to on New Year's Eve have injured themselves or become unwell because they've had too much to drink. This puts additional strain on us and means our ambulances may not be available for those in life-threatening conditions.
Last year, the Service attended 3,663 incidents across New Years Eve and New Years Day. Of these incidents, 662 were alcohol related (18%). **
At 1am on New Year's Day 2014, 44% of the incidents the Service attended were alcohol-related.
To help respond to anyone who becomes unwell or injured in the event area, the Service is also working with St John Ambulance volunteers to run nine treatment centres. Medics in the event area will work in teams of three with St John Ambulance volunteers on foot, carrying full medical equipment with them, including a defibrillator, oxygen and a carry sheet to use as a stretcher. They will be able to weave in and out of the crowds where it is too busy to take an ambulance.
Pauline added: "Our New Year's message to Londoners is enjoy the celebrations but please eat before you go out, drink responsibly, and plan your journey home.  We also urge people to think before calling for an ambulance and where possible consider using other services such as NHS 111, a pharmacy, or walk-in centre."
London Ambulance Service is also asking young people to sign up for alerts straight to their smartphone throughout New Year's Eve reminding them of simple steps to stay safe.
The alerts, sent using digital messaging app Whatsapp, are part of the Service's Eat, Drink & Be Safe campaign to reduce the number of alcohol-related incidents attended this festive season.
**This refers to the 24 hour period from 7.00pm on 31 December 2014  to 7.00pm on 1 January 2015.
-Ends-
How you can have a safe night out:
Eat food first – Food soaks up alcohol, slowing it down on its way into the bloodstream. It will provide more energy, and lessen the effects the next day.
Drink responsibly – Plan what to drink in an evening and stick to it
Be safe – Plan your journey home  and look after your friends

Sign up for Whatsapp Alerts – Get helpful video hints and reminders from the capital's emergency services directly to your phone, when you need them most. Find out how to sign up here
St John Ambulance treatment centres
Whitehall Court
Westminster Abbey – The Sanctuary
Rupert Street
Embankment Station
Casualty Reception Point St Martin in the Fields
The Mall – North side in Horse Walk, to the West of the Duke of York Steps
Waterloo Station, Cab Road
Belvedere Road
Temple Place
See a Google map of treatment centres.
Notes to Editors
Interviews are available. For further information about the London Ambulance Service or this news release please contact the communications department on 020 7783 2286.
Pictures of our medics responding on previous New Year's Eve are available by emailing

[email protected]

calling 020 7783 2286.
For live updates from London Ambulance Service on New Year's Eve please follow us on Twitter at www.twitter.com/ldn_ambulance or use #LondonNYE #EatDrinkBeSafe.
Sign up to Eat, Drink and Be Safe Whatsapp alerts
1. Save the Eat, Drink and Be Safe number into your phone contacts  07899  782 640
2. Send a message saying "I'm in", to the Eat, Drink and Be Safe Whatsapp number
3. Eat, drink and let us help you stay safe – you'll receive your first video message soo