Busiest night ever predicted for London Ambulance Service this New Year
As the Service gears up for its busiest night since records began, London Ambulance Service is reminding party goers that getting drunk is not a game and to only call for an ambulance in a genuine emergency.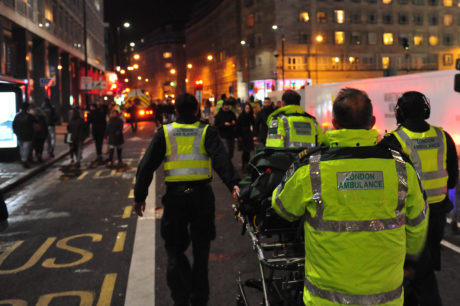 In the run up to New Year's Eve, traditionally the Service's busiest night of the year* for serious emergencies, it is urging Londoners to think about the consequences of drinking too much.
Deputy Director of Operations, Kevin Bate said: "At 2am on New Year's Day 2016, 43 per cent of the incidents the Service attended were alcohol-related. Every ambulance crew responding to someone who has simply had too much to drink, is an ambulance crew not responding to an ill or injured person who needs them.
"As well as our call takers answering hundreds more emergency calls than usual, we will have hundreds of ambulance crews on London's streets responding to patients who need our help.
"In addition, our medics will be out on foot alongside colleagues from St John Ambulance, to offer help to those at the central London celebrations.
"Many of the people we're called to on New Year's Eve are unresponsive. It's not possible to tell over the phone whether they have a serious illness or injury, or have simply had too much to drink, so we have to prioritise them immediately.
"This means other patients such as an elderly faller or someone involved in a road traffic collision will wait longer for an ambulance."
To help respond to an influx in alcohol-related incidents, London Ambulance will have medics on hand at nine treatment centres across the capital throughout the night, to look after people who have had too much to drink.
Kevin added: "We want Londoners to have a great time this New Year but, we also need them to look after themselves and their friends. Too often our crews can spend much of their night caring for people who are vomiting, violent or unconscious after a night out drinking, leaving them unable to respond to other emergencies."
ENDS
Notes to Editor
Media interviews with a London Ambulance Service spokesperson are available on request.
Treatment centres will be based at
Whitehall Court
Westminster Abbey – The Sanctuary
Rupert Street, Soho
Embankment Station
St Martin in the Fields
The Mall – North side in Horse Walk, to the West of the Duke of York Steps
Waterloo Station, Station Approach
Belvedere Road
Temple Place
*1st January 2016 was one of the Service's busiest days of the year for seriously ill and injured patients, with 1,876 Cat A patients. This calendar year (2016) has since been our busiest ever year for Cat A patients, and we are, at present, forecasting that on 1 January 2017 we will see even more seriously ill or injured patients.
**This refers to the 24 hour period from 7.00pm on 31 December 2015 to 7.00pm on 1 January 2016.
London Ambulance Service responded to 6,244 alcohol-related incidents last December.
The top boroughs for alcohol-related calls in December 2015 were

| Borough | Number of alcohol-related calls |
| --- | --- |
| Westminster | 532 |
| Camden | 358 |
| Lambeth | 290 |
| Southwark | 278 |
| Newham | 263 |
| Islington | 263 |
| Lewisham | 198 |
For further information about the London Ambulance Service or this news release please contact the communications department on 020 7783 2286.
Follow us on Twitter at www.twitter.com/ldn_ambulance or visit us on Facebook at www.facebook.com/londonambulanceservice and follow the campaign using #NotAGame