London Ambulance Service gears up for this weekend's 'Mad Friday'
London's partygoers are being urged to think about the consequences of drinking too much this weekend, with the capital's ambulance service reminding them that getting drunk is not a game as it braces itself for an influx of alcohol-related calls.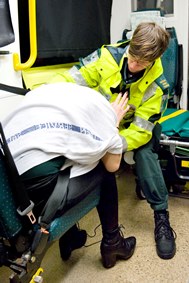 The warning comes as part of London Ambulance Service's latest hard-hitting campaign, which highlights how people who have drunk so much they are collapsed and unconscious can 'top' other patients as paramedics rush to treat them leaving others- including elderly fallers with no other injuries or illnesses and children with broken bones – to wait longer.
'Mad Friday', which falls on 16 December this year, is traditionally the busiest day of the year for alcohol related incidents.
Last year, the Service was so busy that they attended almost 50 people in one hour who'd had too much to drink and this weekend, ambulance crews and control room staff are expecting to deal with up to 900 alcohol related incidents, as Londoners begin their festive celebrations.
Dr Fenella Wrigley, Medical Director at London Ambulance Service said: "We launched our latest campaign 'Getting drunk is not a game' in the hope of educating people on the impact that excessive drinking can have on our other patients.
"Every ambulance crew responding to someone who has simply had too much to drink, is an ambulance crew not responding to an ill or injured person who needs them.
"We want Londoners to have a great time during this party season but, we also need them to look after themselves and their friends. Too often over the festive season, our crews can spend much of their night caring for people who are vomiting, violent or unconscious after a night out drinking, leaving them unable to respond to other emergencies."
ENDS
Notes to Editor
Media interviews with a London Ambulance Service spokesperson are available on request.
Last year the Service attended 47 alcohol related incidents in just one hour (midnight to 1am Friday 18 December 2015 into Saturday 19 December 2015).
Between Friday 18 December and Sunday 20 December 2015 the Service attended 871 alcohol related incidents.
Alcohol-related calls are the most common need for an ambulance among 21-30 year olds across London.
London Ambulance Service responded to 6,244 alcohol-related incidents last December.
The top boroughs for alcohol-related calls in December 2015

| Borough | Number of alcohol-related calls |
| --- | --- |
| Westminster | 532 |
| Camden | 358 |
| Lambeth | 290 |
| Southwark | 278 |
| Lewisham | 198 |
| Newham | 263 |
| Islington | 263 |