Getting drunk is not a game, says London Ambulance Service's festive campaign
London Ambulance Service today (9 December) launches a hard-hitting alcohol awareness campaign highlighting the impact of alcohol-related calls on the capital's other ill and injured patients.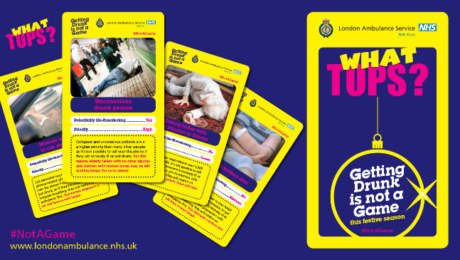 The social media campaign illustrates how people who have drunk so much they are collapsed and unconscious can 'top' other patients as paramedics rush to treat them leaving others to wait longer.*
Dr Fenella Wrigley, Medical Director at London Ambulance Service says: "Every ambulance crew responding to someone who has simply had too much to drink, is an ambulance crew not responding to an ill or injured person who needs them.
"Patients reported to be collapsed and unconscious trigger the fastest ambulance response. It's not possible to tell over the phone whether they have a serious illness or injury, or have simply had too much to drink, so we have to prioritise them immediately.
"Meanwhile, other patients such as a child with a broken arm, an uninjured elderly faller or someone involved in a road traffic collision will wait longer for an ambulance.
"We want Londoners to have a great time during this party season but, we also need them to look after themselves and their friends. By eating a meal before they go out, drinking responsibly and taking care of themselves, they can make sure our ambulance crews are free to respond to other incidents."
Alcohol-related calls are the most common need for an ambulance among 21-30 year olds across London. Startling statistics from the emergency services show London Ambulance Service responded to over 6,000* alcohol-related incidents last December, making up seven per cent of all ambulance call outs for the month.
As part of the campaign, London Ambulance Service will be providing tips and advice on social media throughout December, so that party goers can look after themselves and their friends as they enjoy their night out.
For more information please visit www.londonambulance.nhs.uk/ or follow the campaign on social media using #NotAGame.
*Alcohol-related calls for patients in a life-threatening condition receive a faster response.
ENDS
Notes to Editors
Response Times by Illness Type

| Illness type | Average response time (December 2015) |
| --- | --- |
| Cardiac arrest | 5 minutes |
| Unconscious, alcohol-related | 7 minutes |
| Child with fracture/possible fracture | 23 minutes |
| Elderly faller (65+) | 31 minutes |
| Conscious, alcohol-related | 38 minutes |
6,244 alcohol-related incidents attended by London Ambulance Service in December 2015. Of these, 24 per cent were to patients reported to be unconscious following alcohol (1,502 patients).
The latest (2014/15) reference cost available for attending incidents (See and Treat) is £198.02 per incident – that's almost £1.25 million in attending the 6,244 alcohol-related incidents last December. This does not include the cost of taking patients to hospital.
Data for local boroughs and spokespeople for interview are available upon request.
London Ambulance Service NHS Trust is the busiest emergency ambulance service in the UK that provides healthcare that is free to patients at the time they receive it.
We have over 5,000 staff, who work across a wide range of roles based in 70 ambulance stations. We serve more than seven million people who live and work in the London area.
For more information, media enquiries or interview requests please contact the Communications team on  020 7783 2286 or

[email protected]

Follow us on Twitter and like us on Facebook for the latest news and information.