London Ambulance Service staff celebrate service
More than 1,800 years of service were celebrated by London Ambulance Service staff in Westminster last Thursday (24 November).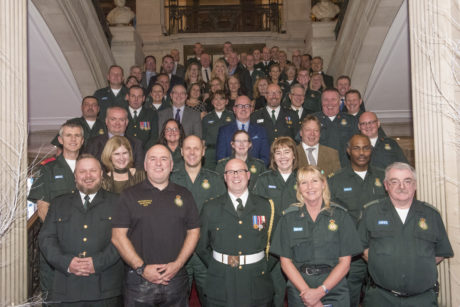 From saving lives at major incidents to answering hundreds of 999 calls and keeping London's fleet of ambulances on the road, 81 members of staff were honoured for a combined 1,846 years of caring for the capital.
Twenty two people marked their retirement and 59 members of staff who have completed 20 years of service were also commended for their hard work and commitment.
Brian Craggs, a former Education Centre Manager who also spent several years working on the frontline, was honoured for dedicating 41 years to the Service.
The 61-year-old recalled how he worked at Westminster at the height of the IRA bombing campaign in London as well as several major incidents.
He said: "I was first on scene when a bomb exploded in the Houses of Parliament.  I was also first on scene at Hyde Park bombings, and that same day in the afternoon was the band stand in Regent's Park was bombed.
"Over the years, I have also attended several major incidents, including Cannon Street train crash and much later the Paddington train crash at Ladbroke Grove, as well as everyday incidents like suicide and drug overdoses, all of which demanded our best. I am very proud to have always done my best for my patients."
Shirley Wyatt, 60, honoured for 25 years of service, said: "I am very proud in what I have done, very proud. I loved the variety of the job and my colleagues.  Because of the nature of the work, your colleagues become like your family and I will really miss them."
Chairman Heather Lawrence, who presented the certificates, said: "I'm extremely proud to recognise our ambulance, control room and support staff for their dedication to the Service.
"We've heard how they've repaired thousands of vehicles, delivered babies on the London Underground, and attended major incidents such as the Paddington Rail crash and the 7 July 2005 bombings.
"This celebration is a fantastic way to recognise their commitment to saving Londoners' lives."
Ends
Notes to editors: