Ambulance medic honoured for more than 40 years of service
A Catford retiree has been honoured for dedicating more than 40 years to the London Ambulance Service.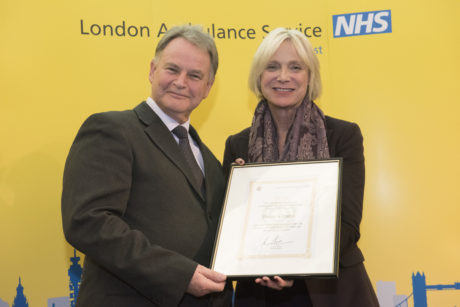 Brian Craggs, of Dowenhill Road, was one of 22 retirees honoured at a ceremony in Westminster last Thursday (24 November), having dedicated 41 years to the Service.
From saving lives at major incidents to training a new generation of paramedics, he has spent more than four decades caring for the capital.
Brian joined in 1975 and was first posted to Deptford ambulance station after just six weeks of training.
He said: "Back then we didn't have paramedics, we had an advanced training scheme called incubation and infusion, so you could put a needle in someone and put in a tube, and that's all you could do then."
He then worked at Westminster during the height of the IRA bombing campaign in London.
He added: "I was first on scene when a bomb exploded in the Houses of Parliament.  I was also first on scene at Hyde Park bombings, and that same day in the afternoon was the band stand in Regent's Park was bombed.
"Over the years, I have also attended several train crashes, as well as everyday incidents like suicide and drug overdoses, all of which demand our very best. I am very proud to have always done my best for my patients."
In the early 1980s, Brian qualified as a paramedic training instructor, a job he says he has found equally enjoyable and rewarding.
"I just loved the variety of the work. I was teaching people from all walks of life who all had something to offer. I have loved the variety of the roles I have had. They have all been so interesting and very varied."
Chairman Heather Lawrence, who presented Brian with his certificate, said: "I'm extremely proud to recognise our ambulance, control room and support staff for their dedication to the Service. We've heard how they've repaired thousands of vehicles, delivered babies on the London Underground, and attended major incidents such as the Paddington Rail crash and the 7 July 2005 bombings.
"This celebration is a fantastic way to recognise their commitment to saving Londoners' lives"
Ends
Notes to editors:
Twenty two retirees and 59 members of staff who have completed 20 years were honoured at the ceremony, celebrating a combined 1,846 years of service
For further information about the London Ambulance Service or this news release please contact the communications department on 020 7783 2286
Follow us on Twitter at www.twitter.com/ldn_ambulance or visit us on Facebook at www.facebook.com/londonambulanceservice