Ambulance medic celebrates more than 40 years of service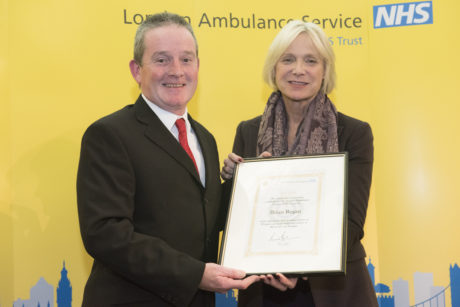 A Borehamwood retiree has been honoured for dedicating more than 40 years to the London Ambulance Service.
Brian Regan, of Kenilworth Road, was one of the 22 retirees honoured at a ceremony in Westminster last Thursday (24 November), having dedicated 42 years to the Service.
Joining as a cadet in 1974 and retiring as an Emergency Medical Technician, Brian has spent just over four decades caring for the capital.
He said: "I joined when I was just 16. Before that, I had been in the St John Ambulance Cadets for four years and saw a job advertised with the London Ambulance Service. I got the job and I have never looked back."
The 59 -year-old recalled how he started as a cadet in Waterloo and was posted to Kenton ambulance station after two years of training.
He added: "We were young ambulance men and we had to learn the trade before working up to emergency work. So when you first went out you were put on outpatient ambulances and you gradually learned our area and you were put on front line ambulances.
"It was very different back then. It was much quieter. There was a station, Ruislip, that everyone was called the 'Olympic torch' because they never went out. Of course it's not like that now as there is much more demand."
Brian, who has worked in different ambulance stations across north west London, says he is proud to have dedicated his work to the Service.
"I have absolutely loved working for the service. I am very  proud of the many patients I have helped over the years, and have delivered more than 12 babies. I am also proud of  the brilliant people I have worked with in the Service."
Chairman Heather Lawrence, who presented Brian with his certificate, said: "I'm extremely proud to recognise our ambulance, control room and support staff for their dedication to the Service. We've heard how they've repaired thousands of vehicles, delivered babies on the London Underground, and attended major incidents such as the Paddington Rail crash and the 7 July 2005 bombings.
"This celebration is a fantastic way to recognise their commitment to saving Londoners' lives"
Ends
Notes to editors:
Twenty two retirees and 59 members of staff who have completed 20 years were honoured at the ceremony, celebrating a combined 1,846 years of service
For further information about the London Ambulance Service or this news release please contact the communications department on 020 7783 2286
Follow us on Twitter at www.twitter.com/ldn_ambulance or visit us on Facebook at www.facebook.com/londonambulanceservice