TV documentary prompts pizza praise
Ambulance staff are feeling the love as they're hailed 'heroes and heroines' by the public following a TV documentary.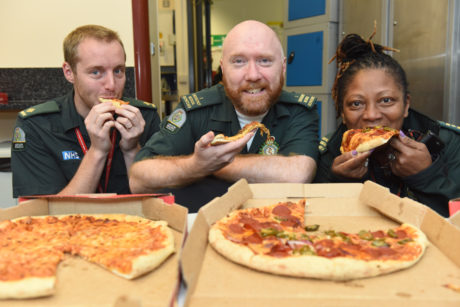 Messages of thanks have been pouring in since the tell-all 'Ambulance' three-part series was broadcast in September and October.
Donuts and chocolates have been delivered to frontline crews to say thank you for the difficult job they do and one father of two was so moved by the 999 call takers that he bought a slice of pizza for all 100 of them on duty today!
Adam Ralph, 36, from Putney, said: "They're heroes and heroines and I was struck by their caring nature as I watched the programme. They were dealing with all manner of calls, from suicides to parents struggling with their children, and being a parent myself I think I'm much more empathetic these days.
"The people working in the ambulances are really under-appreciated – they're working for a great cause which they really do from their hearts, not just for their monthly wage.
The teacher added: "I think people like that sometimes just need a pat on the back. I don't normally do random gifts but I just wanted to let them know they're doing a wonderful job."
The BBC1 series, which attracted 4.5 million viewers, followed ambulance crews as they treated patients across the capital including people who had taken drug overdoses, been stabbed or become unwell at home.
It also featured emergency call takers answering 999 calls and the difficult and often emotional conversations they have including trying to convince a caller to cut man down who was hanging to try and save his life.
Watch Manager Graham Seamons said: "Taking and dispatching 999 calls is an extremely demanding job and it's great that the public have been able to see the difficult decisions we have to make on a daily basis.
"We do this job because we want to help people, but it is really touching to be recognised in this way and the pizza went down very well with the team!"
Ends
Notes to editors: