Service joins 100 black taxis on the Children's Magical Taxi Tour
This weekend (16 – 18 September), 11 of staff from London Ambulance Service will join 100 black taxis to support the Children's Magical Taxi Tour (CMTT), taking sick and terminally ill children to Disneyland Paris..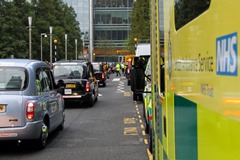 A team of volunteers from the Service will accompany the children in three ambulances and two response cars to provide medical cover and respond to emergencies. The tour is an annual event that gives young people with life-threatening illnesses, their parents and siblings the opportunity to visit Disneyland Paris.
Jon Yates, Operational Business Change Manager and lead planner for the event for three years, said "We are proud to have supported this event over the last 23 years.
"For many children this is a once in a lifetime opportunity as they would not be able to go away without medical support. The event is the result of many months of planning in order to ensure we can provide the best possible care."
Assistant Director of Operations and the Event Commander Stuart Crichton said: "We will be working three 18-hour days as well as the on-call response to support the children every step of the way.
"Many have spent significant amounts of time in hospital and we want to make sure they enjoy the weekend."
ENDS
Notes to Editors:
About Children's Magical Taxi Tour:
This is an annual charitable event run by the Worshipful Company of Hackney Carriage Drivers. Their website is http://www.magicaltaxitour.com/
The event runs from Friday 16 September to Sunday 18 September 2016.