Medic's bright idea makes ambulance crews even more accessible to blind patients
Blind and partially sighted patients can now identify ambulance crews in their hour of need thanks to a London Ambulance Service medic.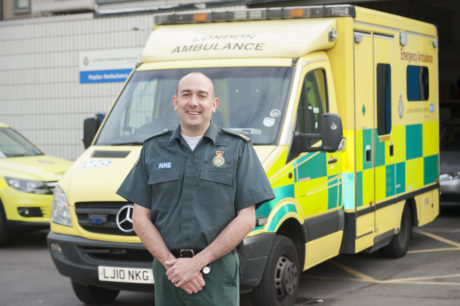 The Service has today (15 August) launched a new scheme thanks to an idea by one of the Service's emergency ambulance crew Dean Buttery.
Dean identified the need for the scheme after he came across an elderly blind man who needed help while off duty.
He said: "People were trying to help him, but they were pulling him in different directions and trying to get him to the side of the road. He was swinging his cane about and trying to get people away from him as he felt vulnerable and threatened, and this added to the danger. I walked over and tried to help him, explaining that I worked for the ambulance service, but had no way to prove it.
"When I was a police officer, I had a warrant card with the word 'police' in braille, and I realised the Service had nothing similar. In this situation I could have identified myself to the patient, enabling him to gain my trust."
Dean took action and raised the issue with his colleagues, and the Service's Executive Leadership team embraced the suggestion, leading to a series of workshops and meetings with staff, patient focus groups and the Royal National Institute of Blind People (RNIB).
As a result, the Service has adopted a safer process in which blind and partially sighted patients can verify the identity of ambulance crews through a re-contact call with the emergency operations centre. Our crews will provide patients who question their identity with a unique code, which the patient can then verify over the phone.
Michael Page, RNIB's New Business Manager, said: "RNIB is pleased to be working with the London Ambulance Service to improve accessibility for blind and partially sighted people across a number of areas.
"It's really important that blind and partially sighted people have confidence in the identity of any person who comes to their door, and this new initiative is another tool to help people to check this. We look forward to continuing to work with London Ambulance Service to improve services for people with sight loss."
ENDS
Notes to Editors
For more information about this news release please call the communications department on 020 7783 2286.
To find out more about London Ambulance Service on social media, please follow @Ldn_Ambulance or like us on Facebook.
The Service treats more than a million patients each year and in London, and at least 41,175 people are registered as blind or partially sighted, many of whom may one day require an ambulance loss."