Smartphone app alert helps volunteer first aiders save a life
Two St John Ambulance (SJA) volunteers helped save the life of a martial arts enthusiast who suffered a cardiac arrest after they were alerted to the emergency by a revolutionary new 'Good Samaritan' app, GoodSAM.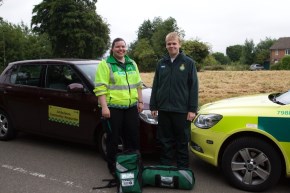 London Ambulance Service colleagues Rachel Love and Andrew Larby were running a training session for SJA's community first responders (CFRs) at Bromley ambulance station, when they were alerted to the cardiac arrest at a nearby church hall via GoodSAM* – an app which uses GPS technology to alert first responders to nearby medical emergencies.
The pair rushed to the scene to find a 53-year-old man being given cardio-pulmonary resuscitation (CPR) by another member of the taekwondo club. They used the automated external defibrillator (AED), which they had with them because of the training session, to deliver an electric shock to the man's heart.
A series of coincidences meant they were both in exactly the right place at the right time
They then administered five more rounds of CPR which revived the casualty just as London Ambulance Service paramedics arrived at the scene.
'I couldn't believe it when he started breathing again and said "I can see you",' said Rachel.
Rachel, an incident response officer with London Ambulance Service, explained how a series of coincidences meant they were both in exactly the right place at the right time She explains: 'The CFR training session was running late which was lucky because otherwise we wouldn't have been nearby. Thankfully, we were close enough and had the right life-saving equipment to make a difference.'
The casualty was taken to hospital where he made a good recovery after undergoing angioplasty. He is returning to work in London this week.
The London Ambulance Service has partnered with the internationally acclaimed GoodSAM app, in which clinically trained ambulance staff and members of the public with basic life support skills trained to a certain standard, can now sign up as volunteers to respond to life-threatening emergency calls, including cardiac arrests.
Dr Mark Wilson, Medical Director of the GoodSAM app said: "This is a fantastic example of how GoodSAM technology can help save lives. There are first aid trained people, like Rachel and Andy, who want to help save lives and they are all around us but might never know that someone is dying right next door.  The app simply connects these good Samaritans with members of the public in their minute of need.  If more people, both medically trained and not, downloaded GoodSAM we could have more outcomes like this."
Find out more about how London Ambulance Service is working with GoodSAM.
Anyone can download GoodSAM App free:
ENDS