Paramedics praise five year old boy for helping to save his nan's life
A five-year-old from Dagenham has been praised by paramedics on Tuesday after helping to save his nan's life.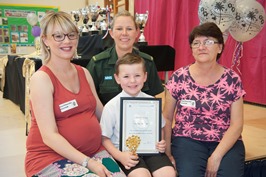 Jean Orriss, 59, says she owes her life to her quick thinking grandson who summoned paramedics after she suffered a serious epileptic fit.
Jean was looking after five-year-old Taylor Maguire while his pregnant mum Louize was in hospital.
"Taylor was playing with his tablet while I was sitting in the armchair sending a text to someone and that's the last thing I remember," said Jean.
"It's the first time in eight years that I have had a fit so Taylor didn't know anything about epilepsy or what to do. But he went next door and told them 'I can't wake up nan – she's not well' and they called the ambulance."
Lisa Snowdon, a paramedic with London Ambulance Service, was second on scene at the family's home in Dagenham.
"What got me was Taylor's age and how calmly he dealt with the situation," she said.
"I have two nieces and nephews and I can't imagine them doing the same.
"It was a severe seizure and it could have been much worse if Taylor hadn't done what he did.
"When I got to the scene he was playing on his tablet and told me 'she is not very well – she was shaking'.
"It really pulled at my heartstrings."
After Jean made a full recovery, Lisa organised for Taylor to be given a certificate recognising his bravery and quick thinking. It was awarded to him in front of his schoolmates at Valance Primary School in Dagenham on Tuesday (July 19) during the school's awards day.
Taylor's mum Louize, 27, said: "After mum had her fit Lisa came to the hospital and told me what had happened. I was upset at first but then so proud of what Taylor had done.
"I can't get over it; I really didn't know what to expect from him in that kind of situation. Personally I would have panicked if it was me, so I'm so proud of him and the way he handled it.
"I think he wants to be a wrestler, but I'm trying to encourage him to become a paramedic."
Jean added: "I am lost for words; he saved my life. If he hadn't been there I don't know what would have happened.  He's always been my number one."
ENDS
Notes to editors:
For more information about this news release please call the communications department on 020 7783 2286.
To find out more about London Ambulance Service on social media, please follow @Ldn_Ambulance or like us on Facebook.