Hundreds more emergency calls in London because of hot weather
London Ambulance Service is responding to hundreds more calls as temperatures soar in the capital.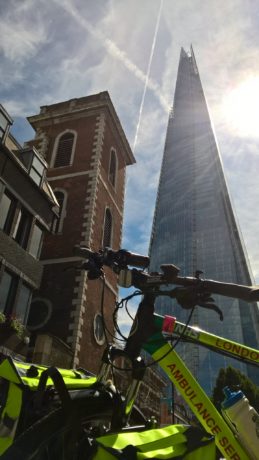 Yesterday (18 July) the Service attended 300 more category A calls – the most seriously ill and injured patients – compared to an average day.
From feeling dizzy and faint, to respiratory problems and dehydration, those who live and work in London are feeling the heat.
Medical Director, Dr Fenella Wrigley is asking everyone to take care of themselves and others so we and other parts of the NHS can continue to care for those who really need us.
Fenella said: "We see an increase in calls because people forget to stay hydrated and the heat can exacerbate heart and breathing conditions.
"Older people, the very young and people with pre-existing conditions are more at risk so please check on friends, family members and neighbours who are vulnerable.
"We urge everyone out enjoying the sunshine to drink plenty of water, stay in the shade to keep cool, cover up, carry any essential medication with them and drink alcohol in moderation."
Fenella added: "People who need treatment for a minor condition should consider other healthcare options, such as calling NHS 111 or visiting a minor injuries unit, NHS walk-in centre or local pharmacist.
"If they need to go to hospital for non-emergency treatment, they should get a lift from a friend or relative or take a taxi."
Top tips
During high temperatures the number of emergency calls for people thought to be unconscious increases. Please check if someone needs medical attention before calling 999 by speaking to them and checking if they are breathing
Make sure you keep hydrated throughout the day and avoid drinking alcohol in the sun
Older people, babies and young children and those with pre-existing medical conditions are more likely to be affected by the heat
Try to keep cool by staying in the shade, keeping covered up, wearing a hat and applying lots of sun cream
Patients with chronic respiratory conditions, such as asthma and bronchitis, should carry their prescribed medication
Stay in the shade during the hottest part of day, usually between 11am and 3pm
For less serious illnesses and injuries consider other healthcare providers in the community such as your local pharmacy or walk in centre
Ends
Notes to editors
Dr Fenella Wrigley is available for interview today
On average the Service attends 1,300 category A calls a day and responds to 3,500 incidents
A 2013 Public Health England report, 'The Impact of Extreme Weather and Climate Change on Ambulance Incidents and Response Times in London,' states that "during hot weather for every one degree Celsius (of the daily maximum air temperature) above 20 degrees Celsius the total number of Incidents increases by approximately 1% of which about half are Cat A incidents. Also on average for every one degree Celsius above 20 degrees Celsius the Cat A performance declines by about 1%"
For more information please contact the Communications Department on 020 7783 2286. Follow us on Twitter at www.twitter.com/ldn_ambulance or find us on Facebook at www.facebook.com/londonambulanceservice