Paramedic features in latest Historic England exhibition
A paramedic from Homerton is one of 59 Londoners to feature in the latest Historic England exhibition celebrating London's unique and complex identity.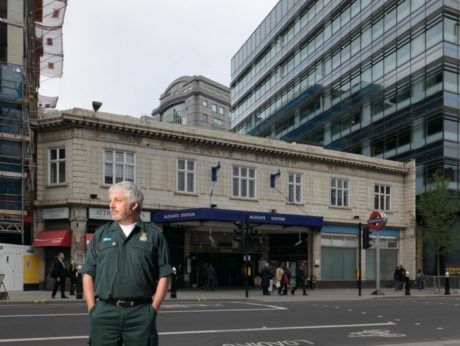 Craig Cassidy has his portrait on display at the Historic England's 'I am London' exhibition, which opened last night.
Each person featured in the exhibition has been photographed at a historic building or place special to them.
Craig was photographed outside Aldgate Underground Station, a significant London location for him, as it is the scene which he and other colleagues from the Service attended to treat the victims of the London bombings on 7 July 2005.
Craig said: "7/7 is 11 years ago now, but whenever I go to a job around Aldgate it comes straight back to me. The picture came out great; it's wasn't a sunny day when it was taken which captures the sombre mood.
"My wife says it almost looks like I'm frozen in time while life goes on behind me and I think that's the best description of the photo."
Ellen Harrison, Head of Campaigns at Historic England: "We were very keen to have the London Ambulance Service involved. As with all the emergency services, they are the vital people that make the city work.
"When we were putting together the exhibition, 7/7 stood out as an moment in the city's history and we felt it was important to have a paramedic that was there involved.
"Craig is one of the unsung Londoners and his photograph is one of the most moving ones in the exhibition. The emergency services, in particular the London Ambulance Service, do such great work in the city every day that often goes unnoticed."
ENDS
Notes to editors:
You can visit the exhibition at Central Saint Martin's college in King's Cross from now until September 4.
For more information about this news release please call the communications department on 020 7783 2286.
To find out more about London Ambulance Service on social media, please follow @Ldn_Ambulance or like us on Facebook.