Thief steals London Ambulance Service bike
A thief stole a cycle response unit (CRU) bike while a paramedic was treating a patient in the City last month.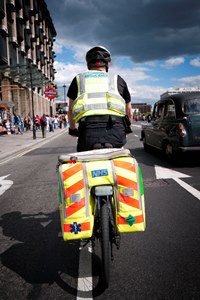 One of the Service's CRU paramedics had been called to reports of a woman who was feeling unwell in Minories on Thursday 23 June. While treating the woman, a thief made off with the paramedics bike, although thankfully left behind all of the lifesaving equipment panniers.
Cycle Response Unit Manager, Tom Lynch said: "It's shocking that someone would steal from a paramedic who was busy treating a patient. This causes a lot of disruption to our Service as there was a delay before they were able to get back out on duty.
"Our paramedics should be able to focus solely on their patients and not have to worry about someone stealing their equipment.
"City of London Police are appealing for witnesses and we would urge anyone with any information to let them know."
Contact City of London Police or visit its website.
ENDS
Notes to editors: