Eat, Drink and Be Safe as Euro 2016 kicks off
London Ambulance Service is urging football fans to eat, drink and be safe during a summer of football, so they don't end their night in the back of an ambulance.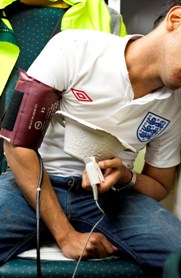 Large England matches, coupled with sunny weather, can spark a significant increase in alcohol related calls to the Service – during the World Cup in 2014, the day of England vs Italy match saw the number of alcohol related incidents rise by nearly 10 per cent.*
London Ambulance Service Deputy Director of Operations Kevin Brown said:
"We hope that we'll have a memorable Euro 2016 and we want people to have a good time, but we know from experience that people can drink far too much alcohol without realising the effect it can have.
"Excessive drinking can cause injuries, like sprains and cuts, and impair your judgement putting yourself at risk, so we'd advise Londoners to eat before going out, drink sensibly and plan ahead for a safe journey home.
"And for the next morning, don't call us for help in dealing with your hangover. Instead, rehydrate and visit your local chemist for help!"
Last year, London Ambulance Service launched a campaign to encourage revellers to 'Eat Drink and Be Safe' after it responded to over 65,000 alcohol related emergencies throughout the year.**
ENDS
Notes to editors:
*On Saturday 14 June 2014, we responded to 293 alcohol related incidents – 9.66 per cent of our call outs for the day. On Saturday 7 June 2014, we responded to 269 alcohol related incidents.
**Between 1 January – 31 December 2015, we attended 66,323 alcohol related incidents.
For further information about the London Ambulance Service or this news release please contact the communications department on 020 7783 2286
Follow us on Twitter at www.twitter.com/ldn_ambulance or visit us on facebook at www.facebook.com/londonambulanceservice