Festive drinkers in the capital are being urged to Eat Drink & Be Safe this weekend, as London Ambulance Service crews and control room staff prepare for one of the booziest weekends of the year.
The last working Friday before Christmas is traditionally the busiest d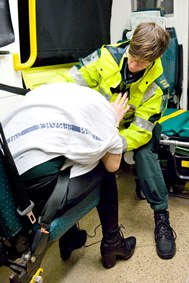 ay of the year for alcohol related incidents and last year the Service attended 32 alcohol related incidents in just one hour.
While the Service hopes its 'Eat Drink & Be Safe' alcohol campaign will encourage Londoners to drink sensibly, look after their friends and plan their journeys home, it is gearing up for a busy weekend and expects to attend over 700 alcohol related incidents.
Director of Operations, Paul Woodrow, said: "We hope people will see our 'Eat Drink and Be Safe' campaign and think twice about over doing it with alcohol this year. But sadly, we know from experience, that hundreds of Londoners will end their night in the back of an ambulance this party season.
"We can be called to people who have fallen in the road or on railway tracks or been involved in fights – often because they've had too much to drink. And our crews can spend much of the night caring for people who are vomiting, violent or unconscious."
This Christmas party season, London Ambulance Service has teamed up with London Fire Brigade and the Metropolitan Police Service to encourage Londoners to 'Eat, Drink and be Safe' during the festive fun.
The campaign, supported by the Greater London Authority and the City of London, aims to tackle the number of alcohol-related incidents that the three blue light services respond to this December.
Last December the Service treated over 5,000 patients with alcohol-related injuries in the capital and it is expected to be busy again this year.
Paul said: "We want people to have a good time but we know from experience that many Londoners drink far too much alcohol on a night out, especially during the festive period.
"Most patients we look after have nothing wrong with them medically and just need a safe place to sober up. But excessive drinking can cause injuries, like sprains and cuts, and impair judgement putting people at risk as well as the long term health impacts it may have."
Paul added: "There are some common sense steps you can take to have a safe night out, like eating a proper meal before going out and pacing your drinking. Also, have a plan on how you are getting home and look after your friends.
"Please drink responsibly so that you don't end up in the back of an ambulance this party season."
ENDS
Notes to Editor
Last year the Service attended 32 alcohol related incidents in just one hour (midnight to 1am Friday 19 December 2014 into Saturday 20 December).
Between Friday 19 December and Sunday 21 December the Service attended 731 alcohol related incidents.
The Kingston alcohol recovery centre is open this weekend (18,19 December)
Alcohol-related calls are the most common need for an ambulance among 21-30 year olds across London.
London Ambulance Service responded to 5,059 alcohol-related incidents last December.
•here have been 335 accidental alcohol related fires so far in 2015, according to London Fire Brigade.
More than half of the people who died in accidental fires last year had alcohol in their bloodstream.       
The top boroughs for alcohol-related calls in December 2014 were:
| | |
| --- | --- |
| Borough | Number of alcohol-related calls |
| Westminster | 479 |
| Camden | 274 |
| Lambeth | 268 |
| Southwark | 260 |
| Lewisham | 198 |
For further information about the London Ambulance Service or this news release please contact the communications department on 020 7783 2286.
Follow us on Twitter at www.twitter.com/ldn_ambulance or visit us on Facebook at www.facebook.com/londonambulanceservice
#EatDrinkBeSafe