Festive drinkers in Kingston who overindulge will be treated by medics at an alcohol recovery centre this party season, thanks to a partnership between London Ambulance Service and Kingstonfirst.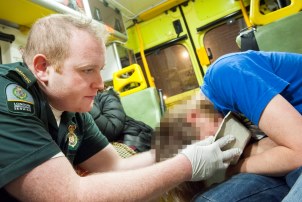 Launching this weekend at the Everyday Church in Union Street, it will run every Friday and Saturday night in the run up to Christmas, as well as on New Year's Eve.
Last year's pilot scheme in Kingston saw more than 64 people treated by the medics at the centre, saving 45 ambulance call outs and allowing paramedics to attend other patients and freeing up beds at Kingston Hospital A&E.
Kier MacLean, a paramedic with London Ambulance Service said: "We want people to have a good time but we know from experience that people can drink far too much alcohol on a night out, especially during the festive period.
"Most patients we look after have nothing wrong with them medically and just need a safe place to sober up."
Alcohol-related calls are the most common reason 21-30 year olds call for ambulance help. To help tackle that, this year London Ambulance Service is working with the London Fire Brigade and the Metropolitan Police to encourage party goers to 'Eat Drink and Be Safe' this December.
As part of the campaign, posters advising the public to eat before going out, drink sensibly and plan ahead for a safe journey home, will appear across the London Underground network.
Keir said: "Excessive drinking can cause injuries, like sprains and cuts, and impair your judgement putting yourself at risk. Please drink responsibly so that you don't end your night in the back of an ambulance or in the treatment centre."
The alcohol recovery centre provides an alternative to busy A&E departments and can help to free up hospital beds. Ambulance crews and volunteers will monitor patients' blood pressure and blood sugar levels allowing them to sober up before discharging them or contacting their families and friends to collect them.
Kier added: "There are some common sense steps you can take to have a safe night out, like eating a proper meal before going out and pacing your drinking. Also, have a plan on how you are getting home and look after your friends."
Ros Morgan, Kingstonfirst Chief Executive, said: "Last year's pilot was a tremendous success and really helped the ambulance service prioritise those in need. That the centre is returning to the Everyday Church again this year is excellent news."
Ends
Notes to Editors
For interview requests, filming opportunities or photographs, please call the communications team on 020 7783 2286.
For more information on the Eat Drink and Be safe campaign or for images and graphics, please visit our website http://www.londonambulance.nhs.uk/getting_involved/eat_drink_and_be_safe.aspx# ·
London Ambulance Service NHS Trust is the busiest emergency ambulance service in the UK that provides healthcare that is free to patients at the time they receive it.
We have over 4,500 staff, who work across a wide range of roles based in 70 ambulance stations.
We serve more than seven million people who live and work in the London area. 
Follow us on Twitter and like us on Facebook for the latest news and information.