Community care project to support elderly wins global sustainability award
A Barking and Dagenham, Havering and Redbridge scheme that provides emergency care to elderly people with minor injuries or illnesses while allowing them to stay in their homes has won an award.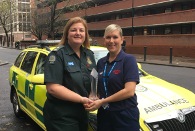 The scheme known as K466, was set up in October 2014 it's seen some amazing success so far. Sixty five per cent* of the patients treated by the community treatment team for minor injuries or conditions are able to stay in their homes, vastly reducing the number of hospital admissions and releasing front line ambulances to attend emergency calls.
Sidney Parker, 88, from Redbridge has benefitted from the support of the community treatment team a number of times. His daughter Linda explained:
"In the last few years, we've had to call 999 a few times after Dad has had a fall. He has mobility problems on a daily basis, but when he falls we know that often it's a sign of an underlying condition or infection that's affecting his health.
"The community treatment team that come out with a paramedic to treat him are fantastic. They know that as an elderly man, the last thing he wants is to be stuck in a hospital bed, so they come to his home and do their observations, provide the treatment he needs and ensure he's looked after without him having to leave the house. Alongside that, they consistently treat him with respect and dignity – the service really can't be faulted.
"Knowing that the team are around to support him this winter is a relief. It's always a difficult time of year as Dad often suffers with chest infections, which left untreated can turn into pneumonia. Combining that with the risk of him falling over is enough to make any family member worry, so the support from the community treatment team is invaluable."
In recognition of its success, the scheme run by London Ambulance Service and North East London NHS Foundation Trust (NELFT) has now been named 'most sustainable project' at the Doctors Advancing Patient Safety (DAPS) Global Summit.
Paramedic Debbie Richmond, from London Ambulance Service said "We're thrilled that the K466 team have been recognised for their work. We are constantly looking for innovative ways to provide the best possible care for all of our patients. Working alongside the NELFT community treatment team has allowed almost 900 patients, many of whom are elderly, to be treated for minor injuries and illnesses at home rather than be taken to hospital."
Nurse Practitioner Lea Agambar, from NELFT NHS Foundation Trust, said "I love going to into the community to help older people. We take great pride in the quality of the care we provide and know that many elderly people don't want to be taken in to A&E, so it's really rewarding when we're able to treat them and keep them in their homes."
The award marks the latest in a number of acknowledgements for the project's success. In July 2015, K466 won a Patient Safety Congress and Award for 'improving healthcare processes and outcomes'. It was also shortlisted in September of this year for a Health Service Journal Award for 'Value and Improvement in Community Health Service Redesign'.
ENDS
Notes to editors
 *857 patients out of 1324 seen by the team were kept safely in their own homes, releasing frontline ambulances to attend other calls (65%)
London Ambulance Service NHS Trust is the busiest emergency ambulance service in the UK that provides healthcare that is free to patients at the time they receive it.
 We have over 4,500 staff, who work across a wide range of roles based in 70 ambulance stations. We serve more than seven million people who live and work in the London area.
For more information about NELFT visit http://www.nelft.nhs.uk/ or follow us on twitter at @NELFT
For more information, media enquiries or interview requests please contact Christina Clynes, Communications Officer on  020 7783 2408 or

[email protected]

Follow us on Twitter and like us on Facebook for the latest news and information.