Emergency services team up to save even more lives in three London boroughs
A new initiative which sees police officers prepared to respond to life-threatening emergencies launches next week, Monday 30 November.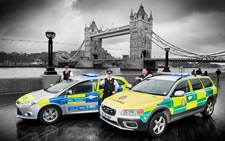 The scheme, piloted by London Ambulance Service and Metropolitan Police Service, will see 110 defibrillators added to police vehicles and stations across the boroughs of Enfield, Croydon and Ealing.
Chris Hartley-Sharpe, Head of First Responders at London Ambulance Service said "We're committed to providing the best possible care for all of our patients and are always looking for new ways to improve patient outcomes.
"This initiative is a fantastic opportunity for the emergency services to work together and share resources, saving more lives across London. Police officers on the pilot boroughs will be alerted to a potential cardiac arrest alongside our ambulance crews, which means that if they are in a closer proximity, they can respond first.
"We know that around 32 per cent of people survive a cardiac arrest in a public place but, where there is a defibrillator and someone trained to use it, the chance of survival can increase to 80 per cent. The more people available to respond to these types of incidents, the better."
The pilot is the latest in a number of initiatives supported by the London Ambulance Service to increase cardiac arrest survival rates in the Capital. Last year, the ambulance service launched a campaign which saw over 1,000 accredited defibrillators added to shops, gyms and businesses across London.
More recently, the Service embarked on an exciting new partnership with the internationally acclaimed GoodSAM app, in which clinically trained ambulance staff and members of the public trained to an approved standard are able to sign up as volunteers to respond to life-threatening emergency calls, including cardiac arrests.
Assistant Commissioner Martin Hewitt from Metropolitan Police Service said: "We are delighted to be working in partnership with the London Ambulance Service across the boroughs of Ealing, Croydon and Enfield. Equipping our response team vehicles and station offices with this essential life saving equipment will enable over 725 officers to be available to respond to these critical life or death emergency calls. "
During the pilot, which will run between December 2015 and May 2016, it's thought that police officers will be able to respond to 12-13 potential cardiac arrests per borough every week, as part of a dual response with London Ambulance Service.
ENDS
Notes to Editors
This is a dual-response pilot which looks to improve a person's chance of survival when in cardiac arrest. London Ambulance Service will continue to respond to any call as quickly as possible, even where a police officer is dispatched.
London Ambulance Service NHS Trust is the busiest emergency ambulance service in the UK that provides healthcare that is free to patients at the time they receive it.
We have over 4,500 staff, who work across a wide range of roles based in 70 ambulance stations. We serve more than seven million people who live and work in the London area.
For more information, media enquiries or interview requests please contact Christina Clynes, Communications Officer on 020 7783 2408 or

[email protected]

Follow us on Twitter and like us on Facebook for the latest news and information.