London Ambulance Service sees increase in number of seriously ill patients in the capital
The number of seriously ill or injured patients in London has increased by on average 2,000 patients a month since August, compared with the same time last year.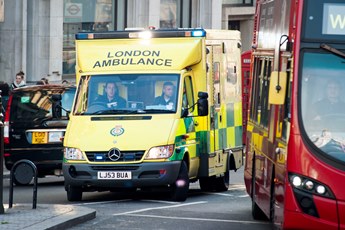 And in the last week (2-9 November) ambulance crews in London attended 11,035 patients in a critical condition. Dr Fenella Wrigley, Medical Director at London Ambulance Service said, "We've seen a large increase in the number of critically ill or injured patients in London in recent months.  This places our staff under additional pressure; however we are still reaching 77 per cent of these patients in ten minutes.
While the Service continues to prioritise its response to patients in life-threatening conditions, other people, with less serious injuries and illnesses are urged to call NHS 111 or make their own way to an urgent care centre, pharmacy or GP.
Dr Wrigley said "People with twisted ankles, fingers trapped in doors or acute dental pain, do not need an emergency ambulance on blue lights. Londoners can help us, our staff and themselves, if they only call us in a genuine emergency, make sure they are registered with a GP, and use NHS 111 for advice on other local NHS services."
On average, the Service receives over 35,000 emergency calls a week. Around ten per cent of these are resolved over the phone. After an initial clinical triage, these callers will either be referred to NHS 111 or given additional clinical advice by a paramedic. 
-ENDS-
Notes to Editors
To help tackle the increasing demand, the Service has recruited 700 front line staff this year
London Ambulance Service NHS Trust is the busiest emergency ambulance service in the UK that provides healthcare that is free to patients at the time they receive it
We have over 4,500 staff, who work across a wide range of roles based in 70 ambulance stations. We serve more than seven million people who live and work in the London area.
In 2014/15, we handled over 1.8 million emergency calls from across London and attended more than one million incidents
or more information, media enquiries or interview requests, please contact call the communications team on 020 7783 2286
Follow us on Twitter at www.twitter.com/ldn_ambulance or visit us on Facebook at www.facebook.com/londonambulanceservice
Look at our latest photos from around the Service at www.flickr.com/londonambulance