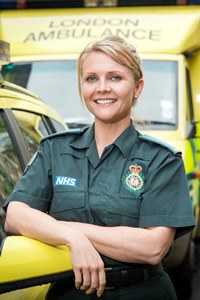 London Ambulance Service trainers teaching passengers life-saving first aid at a train station put their skills into practice when a man's heart stopped.
Community Resuscitation Officers Lynsey Grant and Martin Bullock were demonstrating how to use CPR at St Pancras station at around 12.50pm on Tuesday 6 October when they were alerted by station staff of a man who had collapsed for real.
Lynsey, a registered paramedic, said: "I was showing a member of the public how to use a defibrillator when a station worker approached me and said someone was turning blue. When we do demonstrations in public places, we always bring a working defibrillator with us. They are life-saving pieces of equipment and you could need one at any time."
When Lynsey and Martin reached the patient, he was suffering cardiac arrest. An off-duty police officer was doing CPR on the man in his seventies.
Lynsey added: "We rushed to the patient and I took over from the bystander who seemed very shocked. I don't think he'd used CPR in a real situation before but the training is so simple it just kicks in. Martin and I placed the defibrillator on the patient's chest and delivered one shock before his heart returned to a normal rhythm."
Moments later, a number of resources including a cycle responder, a motorcycle responder and an advanced paramedic arrived to stabilise the patient.  He was taken by ambulance to University College Hospital as a priority.
Head of First Responders Chris Hartley-Sharpe thinks this is a perfect example of why it's important Londoners learn first aid and London has plenty of publically-accessible defibrillators.
He said: "This really shows how essential CPR and defibrillator training is. It only takes five minutes to learn how to save a life and the skills you learn could be useful anywhere, at any time. There are almost 10,000 cardiac arrests in London a year and around 32 per cent of people survive a cardiac arrest in a public place, but where there is a defibrillator and someone trained to use it, the chance of survival can increase to 80 per cent."
ENDS
Notes to Editors
A cardiac arrest, which is different from a heart attack, occurs when your heart stops, blood is no longer being pumped around the body and you are clinically dead.
The only effective way to restart the heart is to use a defibrillator, which delivers an electric shock to the heart, and is shockingly easy to use.
Your chances of surviving a cardiac arrest decrease by 10 per cent every minute without emergency life-support.
If you would like to acquire a defibrillator for your business or community centre, please call 020 7783 2366 or email

[email protected]

For more information and high resolution images, please contact our Communications team at 020 7783 2286 or email

[email protected]