London Ambulance Service warns of the dangers of legal highs ahead of Notting Hill Carnival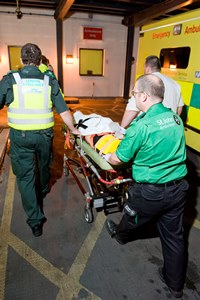 Ambulance bosses are encouraging people to have fun ahead of Notting Hill Carnival this weekend but are warning festival goers of the dangers of legal highs.
The Service will be working in partnership with St John Ambulance over Sunday 30 August and Monday 31 August, to man 10 treatment centres where the majority of patients will receive medical assistance. Teams of medics, specially trained to work in large crowds, will respond on foot carrying medical equipment including a defibrillator and oxygen.
Tactical Commander for the carnival, Paul Gibson said: "Legal highs posed a big problem for us at last year's carnival.
"We treated many people who presented symptoms having taken legal highs. These included seizures, falls and people suffering injuries as a result of assaults. People were also treated for foot injuries due to canisters being discarded on the streets.
"Legal highs can be extremely dangerous; we urge people to think twice before taking them and be aware of the potentially harmful side effects.
"As ever we want revellers to stay safe and healthy whilst having fun at the carnival.
"We advise people to wear sensible shoes to avoid cuts, drink alcohol sensibly and make sure you have water and any medication you need with you.
He added: "If you do feel unwell or get hurt in any way, please seek help at the treatment centres set up for the carnival rather than dial 999."
-Ends–
A list of treatment centres
East Row @ Conlan Street
Southam Street @ Adair Road
Westbourne Park bus garage
Treverton Street @ Ladbroke Grove
Farady Road @ Ladbroke Grove (next to fire station)
Lancaster Road @ Ladbroke Grove
Denbigh Terrace @Denbigh Road
Kensington Park Road @ Pembridge Road
Tavistock Crescent @ St Luke's Road
St Stephen's Gardens North Side
Notes to Editors
A spokesperson is available for interviews on this topic.
"Legal highs" contain one or more chemical substances which produce similar effects to illegal drugs.
132 London Ambulance Service staff will be on duty at the carnival on Sunday 30 August and around 137 staff on Monday 31 August
For further information about the London Ambulance Service or this news release please contact the communications department on 020 7783 2286, alternatively please email

[email protected]

.
Follow us on Twitter at www.twitter.com/ldn_ambulance using #carnival
Visit us on Facebook at www.facebook.com/londonambulanceservice
​