Ambulance crews shake, rattle and roll at vehicle demo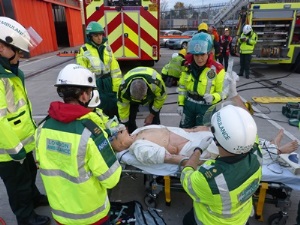 London Ambulance Service is gearing up for something system-matic, hydro-matic and automatic at a simulated exercise at an iconic north London motor café this week.
It will be go-go-go Grease Lightening at the ACE Café in Stonebridge where London Ambulance Service crews will work with London Fire Brigade and London's Air Ambulance to rescue patients trapped in a car in a simulated exercise tomorrow(Friday 14 August).
The demonstrations will rock around the clock from 10am until 3pm and the Service is inviting all petrolheads to come along and see how the emergency services work together at the scene of the collision to save lives.
Shaun Rock, Hazardous Area Response Team  (HART) Clinical Team Leader, who organised the exercise with the Brigade and London's Air Ambulance, said the event is the result of five year's close working between the Service and the Brigade.
"We're really pleased to have been asked to take part in this exercise. We have worked closely with London Fire Brigade to provide further first aid training in the last five years. Firefighters have shadowed our ambulance crews to learn more about how we manage patients at the scenes of accidents.
"We've also hosted training exercises with some of London's Fire Brigades most skilled demonstration teams who have represented the Brigade at national and international competitions to improve how we work together at the scene of an accident where it's difficult to access our patients.
"The exercise will be very exciting for the public who may not have seen cutting equipment like 'the jaws of life' in action before but it's also a poignant reminder of the cost of carelessness on the roads."
Visitors to the ACE Café on Friday can expect to see 10 paramedics and three crews of firefighters removing four 'patients' involved in a road traffic collision between a motorcycle and a car.
Mods and Rockers welcome.
-Ends-
Notes to Editors
For more information please contact the Communications department at 020 7783 2286 or email

[email protected]