London Ambulance Service Chief Executive confirmed
London Ambulance Service is pleased to confirm that Dr Fionna Moore MBE has been appointed as Chief Executive.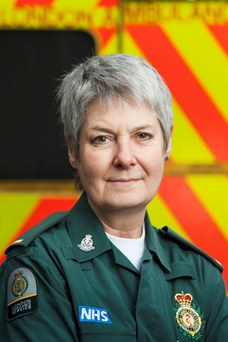 Fionna has been the interim Chief Executive for the last six months, and previously medical director for 17 years. Chairman Richard Hunt said: "The final panel was in complete agreement about the decision to offer Fionna the role. She is a highly experienced leader and is always passionate about patient care.
"Having worked for the Service for 17 years, Fionna knows the organisation well, recognises the challenges we face and is already taking steps to improve patient care and the working lives of our staff."
Fionna has nearly 30 years' experience as a consultant in emergency medicine and was recognised in the Queen's Birthday Honours in 2013 when she was awarded an MBE for services to the NHS and emergency services.
Fionna said: "It is a huge privilege to lead London Ambulance Service.
"The last 18 months have been challenging for all our staff, particularly for those working on the front line and in our control room. We've started to see improvements and one of my priorities is to continue to reduce pressure on staff so we can improve our response to all our patients."
As well as an experienced leader and NHS manager, Fionna does regular clinical shifts on ambulances, in cars and with London's Air Ambulance. This decision will be well received by ambulance staff, many of whom campaigned for her to be the Chief Executive.
Eric Roberts, Unison Branch Secretary, said: "We welcome Fionna Moore as CEO and look forward to working with her to improve our Service and the working conditions of our members. We have a difficult few years ahead of us. It is vital that the CEO and Unison keep focused on what is important for our staff and Londoners."
Mick Butler, GMB Branch Secretary, said: "I was pleased to be part of the process and feel the right candidate has been selected.
"Staff have confidence in Fionna as the leader of London Ambulance Service and I welcome her commitment to work closely with the trade unions in the true spirit of partnership working."
– Ends –
Notes to editors:
Fionna joined the Service as Medical Director in 1997 and was made an executive director in September 2000.
Fionna is a consultant at Charing Cross Hospital and honorary consultant with London's Air Ambulance.
She is London's first trauma doctor who implemented the London trauma system in 2009 to 2013.
Previously Fionna worked as a consultant in emergency medicine, at University College and John Radcliffe Hospitals.
Fionna holds a fellowship in immediate medical care from the Faculty of Pre-Hospital Care of the Royal College of Surgeons Edinburgh.
Fionna is married, has four adult children and is a big dog lover.
She also works as a British Association for Immediate Care (BASICS) doctor. Immediate care doctors are specialists, trained to provide medical support at the scene of an accident or major medical emergency, or while patients are in transit to hospital. They also provide medical support at mass gatherings.
For further information about the London Ambulance Service or this news release please contact the communications department on 020 7783 2286.