London medics make tracks for Mongolia for charity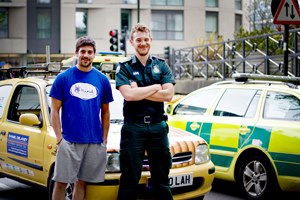 Two adventurous London Ambulance Service medics set off yesterday (Sunday 19 July) to drive half way across the world for charity.
The 10,000 mile trek across two continents Clinical Team Leader Alec Wilding and Paramedic Sam Compton-Brooks will undertake in two separate vehicles is no mean feat – especially as they have never even driven outside the country before.  
Alec, 26, said: "Manoeuvring a five-tonne ambulance through London's winding narrow streets on blue lights is a driving challenge in itself, and in an average shift, we could easily go through a whole tank of petrol getting to patients in need.
"That said; it's nothing like driving a yellow Nissan Micra all the way to Mongolia, where we'll encounter overnight desert trips without seeing a soul, strange border crossings and I expect at least one breakdown along the way.
"We haven't got a route, we aren't using any maps and we don't have a GPS. And we don't have any support crew if our one-litre banger decides to pack up en route."
However, Alec feels the arduous journey is worth making to raise funds for mental health charity Mind, who run the Blue Light Initiative, a scheme to improve mental health care for emergency workers.
Alec and his friend and travel companion, Steve Lilley have already raised £1,498 for Mind.
He added: "Mind already run key training for our road staff and staff in our control room about how to look after their mental health and how to treat people with mental health problems who use our Service. It's a worthwhile cause."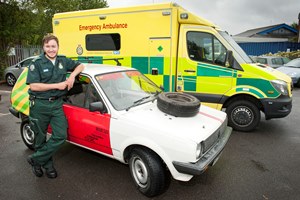 New Malden paramedic, Sam, 22, has picked a 1985 Mk2 VW Polo Breadvan 1.0l, to get him over the Panama Highway  to Mongolia's capital, Ulanbataar, to raise money for London's Air Ambulance, and has a lot of love for the car he's dutifully transformed into a rally car.
Sam, who lives in Esher, said: "Ambulance crews are no strangers to the roads and you get to know the road network in the area you work like the back of your hand. It's easier to spend a long time in the roomy cab of an ambulance compared to having my knees up by my ears, surrounded by smelly mates in the front of a 30 year old polo.
"London's Air Ambulance are raising funds for a helicopter. Our paramedics are seconded to work on the helicopter or in an Advanced Trauma Team car to assist and learn complex life-saving medical procedures with world-class emergency medical consultants. One day I hope I can work with them." 
Sam and his teammates, David Shine and Edward Vos also intend to drive the return journey back from Mongolia totalling almost 17,000 miles.
-Ends-
Notes to Editors