Defibrillator campaign saves lives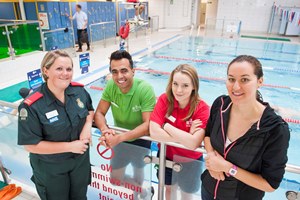 Over 30 lives have been saved since the launch of a London Ambulance Service campaign to put more public access defibrillators in the capital.
A total of 1,007 defibrillators – which are used to restart someone's heart when they're in cardiac arrest – have been established in shops, businesses and gyms across London during the year-long Shockingly Easy campaign.
The achievement is being marked at an event at 9am this Wednesday 15 July at the National Maritime Museum where there will be an opportunity to hear the stories of two cardiac arrest patients who have recently been saved by a public access defibrillator. They will also be reunited, for the first time, with one of the paramedics who helped to save their life.
Thirty two year old Natasha Weisz, a doctor from Finchley, was swimming in the fast lane at Finchley Lido in May when she suddenly stopped, slumped against the ropes and went into cardiac arrest. Natasha was pulled out of the water and resuscitated by three lifeguards who gave her CPR and three defibrillator shocks before the ambulance crew arrived and took over.
Brent Advanced Paramedic, Chelsey Pike, who was part of the ambulance response said: "If it hadn't been for the lifeguards who promptly recognised that she was in cardiac arrest and immediately treated her, it's unlikely that she'd be alive today. The lifeguards were excellent."
Kevin Brewer, 39 at the time of the incident, was completely fit and healthy with no history of heart disease, when, without warning, he suddenly collapsed and went into cardiac arrest whilst working as a maintenance technician at Chessington World of Adventures. 
Kevin said: "I was called to a room at the park's Safari hotel to assist my manager on a plumbing job and as I entered the bathroom everything went blank. I woke up in hospital one and a half days later."
Robert Wright, the park's Hotel General Manager and one of the first aiders who responded to Kevin said: "Kevin's manager raised the alarm straight away and within a couple of minutes six first aiders responded to the call and gave Kevin emergency CPR and three shocks from a defibrillator to keep him alive until the London Ambulance Service arrived."
Shockingly Easy Operational Lead Chris Hartley-Sharpe said:
"He are delighted that there are an extra 1,007 defibrillators in London ready for members of the public to use in the event of a cardiac arrest.
"When someone has a cardiac arrest, the quicker they receive treatment, the more likely they are to survive. Calling 999, starting CPR and using a defibrillator as quickly as possible is the best way for the public to help save a life in London.
"That's why it's important to put more defibrillators in public places and businesses – they save lives. The more defibrillators we put out there, the more lives we'll save."
Over the course of the campaign, at least 31 lives have been saved by a public access defibrillator in London and we're awaiting the outcome of a further 23 patients whose lives may also have been saved. This exceeds the previous maximum number of 18 lives saved in a year.
For more information on how to get a defibrillator for your business and training on how to use it call the London Ambulance Service on 020 7783 2366 or go to www.londonambulance.nhs.uk/shockinglyeasy
-Ends-
Notes to Editors
If you would like to attend the event and interview the cardiac arrest survivors and their rescuers, please contact Nathan Jones in the London Ambulance Service communications team on 020 77832167.

We can also arrange interviews with Chris Hartley-Sharpe on the importance of public access defibrillators and arrange a defibrillator demonstration for you at the event.

The Shockingly Easy campaign was launched on 1 May 2014 with the objective of putting 1,000 extra defibrillators in London within a year.

Around 32 per cent* of people survive an out of hospital cardiac arrest, but where there is a defibrillator and someone trained to use it, the chance of survival can increase to 80 per cent.

A cardiac arrest is when the heart stops pumping blood around the body. This is different to a heart attack, which is when an artery becomes obstructed, restricting the flow of blood to the heart.

CPR is short for cardiopulmonary resuscitation which includes chest compressions and rescue breaths

There are now over 2,800 locations in London with at least one defibrillator and you should be able to find one in train and tube stations, museums and gyms.

Marks & Spencer, David Lloyd, easyGym, Heathrow Airport and Lloyds Pharmacy have joined the Shockingly Easy campaign by installing defibrillators in their buildings and training their staff to use them.