Director of Operations announces departure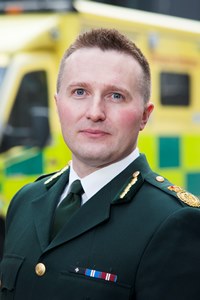 Director of Operations, Jason Killens, today (13 July) announces that he is to leave London Ambulance Service to take up a new role as Chief Executive of South Australia Ambulance Service.
Jason, who has worked for the Service for 19 years, was approached by the South Australia Health Authority earlier in the year to take up this senior position.
It will see him lead a workforce of nearly 3,000 staff covering an area the size of France and Germany combined.
Jason said: "It will be a real wrench to leave London where I have lived and worked all my life. But this an exciting opportunity with new challenges. As well as a large city, South Australia Ambulance Service has vast rural areas which rely on helicopters and aeroplanes to deliver patient care. It couldn't be more different from London."
As Director of Operations, Jason has successfully led on the operational delivery of the Olympic Games, been part of the team that secured extra investment into London, oversaw the introduction of a second control room and a new computer dispatch system and doubled the number of motorbike and cycle responders in the capital.
Jason joined the Service when he was 21 years old as an emergency medical technician treating patients in East London. He went on to take up senior roles leading teams of ambulance staff before being promoted to Director of Operations in 2013.
Chief Executive, Fionna Moore, said: "Jason has made an outstanding contribution to the Service and he will be greatly missed. On behalf of the Executive Management Team, I would like to congratulate him on his new role and wish him the very best for the future."
Director of Performance, Paul Woodrow, will act as interim Director of Operations until a permanent appointment is made.
Jason said: "London Ambulance Service has had a difficult couple of years but we are turning the corner. Response time performance is improving and we have recently recruited hundreds more frontline staff.
"I have always been proud to work for the Service and feel confident it will continue to go from strength to strength providing a good service to patients in London."
– Ends –
Notes to editors:
For more information about this news release please contact the communications department on 020 7783 2286.