Life-saving volunteers recognised at awards ceremony
A London Ambulance Service awards ceremony has recognised the contribution that members of the public make to saving lives in the capital.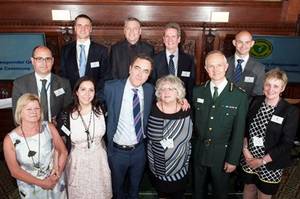 At the Saving Lives 2015 Awards held at the Houses of Parliament on Friday (5 June) 29 volunteers were nominated for their contribution to making London a safer place.
Seven awards were presented altogether by actor James Nesbitt. Amongst the winners was 52 year old administrator Teresa Mitchell, who was working as a school receptionist on 5 December 2014 when two pupils told her a 15 year old boy had collapsed on the classroom floor and wasn't breathing.
His heart had stopped beating, so Teresa began CPR and asked her colleague to get the school's defibrillator, a machine that can shock the heart to restart it when it's stopped beating, and gave the boy two shocks and carried on delivering CPR until the ambulance crew arrived.
Chris Hartley-Sharpe, Head of First Responders at London Ambulance Service, said:
 "Teresa's actions undoubtedly helped to save the boy's life. And she managed to achieve this in front of the boy's mother, Michelle Todd, who is a teacher at the school."
Following the incident the boy received a heart transplant and is now recovering at home.
Teresa said: "He was only 15 and we were stunned that something was wrong with his heart. He had a test a couple of months previously that showed he had no cardiac abnormalities. It just shows that anyone at anytime can suffer from cardiac arrest, even fit and healthy young people with no history of heart disease.
"You need to be prepared for something like this. If there wasn't a defibrillator in the school and if I hadn't received emergency life support training, I doubt he would have survived. I urge everyone to get trained. It's a lot easier than you think to save someone's life."
A range of organisations were also recognised at the awards ceremony, including Royal Museums Greenwich, who have installed a defibrillator at each of their five public sites, including the main museum and the Cutty Sark. The museum has approximately 90 first aiders and all of them have been trained to deliver CPR and use a defibrillator.  Recently, two members of the team helped to save someone's life in Greenwich Park when a 62 year old man collapsed and stopped breathing. They quickly gave him lifesaving CPR and shocked him once with a defibrillator, enabling him to start breathing again before the ambulance crew arrived.
Chris Hartley-Sharpe added: "Our volunteers are playing an increasingly important role in helping us to save lives in the capital. The award ceremony was an opportunity to recognise their incredible contribution and to thank them for their hard work and commitment.  We hope that their example will inspire more people to volunteer for the London Ambulance Service."
If you or your organisation are interested in learning emergency life support skills or becoming a voluntary responder on behalf of the London Ambulance Service please call 020 7783 2534 or visit our Voluntary Responder Group page.
-Ends-
Notes to editors
When you have a cardiac arrest your heart stops, blood is no longer being pumped around the body and you are clinically dead.
Emergency life support training includes a range of techniques that can be performed in an emergency situation to support life after the failure of one or more vital organs. Techniques include CPR, treating major bleeding, relief from choking and the use of a defibrillator.
CPR stands for cardiopulmonary resuscitation and includes chest compressions and rescue breaths.
Award Categories
There were seven award categories in total. A description of each category and the winning nomination in each category is detailed below:
Community Defibrillation Award – recognises volunteers working at a London defibrillator site whose actions have made a significant contribution to saving someone's life.

Winner – Teresa Mitchell – her story is outlined above.

Community First Responder Award – recognises 'on call' defibrillator trained volunteers (supplied by St John Ambulance) operating from home who have excelled in responding to emergency life threatening situations on behalf of the London Ambulance Service.

Winner – John Jeal – John was one of the original members of the Harrow Community First Responder scheme when it was established in 2009. Since then he has consistently provided on-call cover within his community, attending hundreds of patients and saving many lives.

Emergency Responder Award – recognises clinically trained volunteers who have excelled in responding on blue lights alongside ambulances to 999 calls.

Winner – Andrew Barrett – Andrew has become the recruitment lead for the London-wide emergency responder scheme and acts as a mentor to many new entrants. He's also an excellent emergency responder and is held in very high regard by his colleagues.

Community Resuscitation Award – recognises people who have received London Ambulance Service resuscitation training and who have been able to make a significant contribution to saving someone's life. They should not be part of an established volunteer programme.

Winner – David Edmonds – David dialled 999 when his partner, Michelle Edmonds, had a cardiac arrest. With the help of the ambulance service call handler, David carried out CPR for more than five minutes until the ambulance crew arrived and shocked her with a defibrillator, restarting her heart. Michelle has made a full recovery.

Organisation Award – recognises organisations which support an environment that makes successful resuscitation possible.

Winner – Royal Museums Greenwich – see story outlined above.