Sutton woman was one of the first female ambulance workers in London
As the London Ambulance Service celebrates 50 years of caring for the capital, an inspirational woman from Sutton has explained what it was like to be one of the first female ambulance workers based at Waterloo before the Service was formed in 1965.
Having gained her driving licence in the Women's Auxiliary Air Force (WAAF) Phyllis O'Connor, 87, was just 23 years old when she became one of the first female ambulance drivers to join the Service.
Phyllis said: "As I was in the WAAF I was entitled to a drivers licence. All I had to do back then was drive the ambulance to and from hospital – we couldn't even question patients to help treat them. If I had to pick up someone experiencing a heart attack, it would have been extremely hard to save their life.
"Now the Service has trained staff who do so much more than I did in the 1950s. They have state of the art equipment to treat and save lives and better communication tools too."
When the Service was formed in 1965 women made up only six per cent of the workforce compared to almost half now (44 per cent).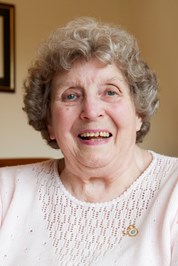 Phyllis added: I'm really proud that I was part of one of the first female crews in the 1950s, it's made me the woman I am today."
Chief Executive of London Ambulance Service Dr Fionna Moore said: "It truly is an honor to hear Phyllis's story about what it was like working as one of the first female ambulance drivers in the 50s.
"Whilst technology and training has transformed the Service, the one thing which hasn't changed is the commitment of ambulance staff to the health and well-being of Londoners. All our staff are committed, caring and compassionate people who continue to work in extremely challenging situations to help save the lives of Londoners."
-Ends-
Notes to Editors:
On 1 April 1965, nine ambulance services merged to create London Ambulance Service.
Although the Service as we know it is only 50 years old, there have been ambulances working in the capital for well over 100 years.
In 1965 we had 2,500 staff, compared to 4,500 now.
We now have cars, motorbikes, push bikes and a helicopter as well as ambulances in our fleet of emergency vehicles, compared to just ambulances in the sixties.
For high resolution images, please contact the communications team at 020 7783 2345 or email [email protected]
Follow us on Twitter @Ldn_Ambulance and like us on Facebook