A Ricksmanworth man who pulled an unconscious man from a canal has been awarded for his bravery by London Ambulance Service.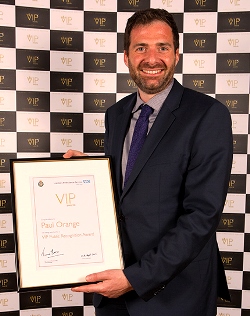 Paul Orange, 42, was commended by London Ambulance Service Chairman Richard Hunt MBE for his quick-thinking and courageous actions which saved a man's life at the Service's inaugural awards ceremony in Westminster.
Paul didn't know he would save a life on Thursday 18 September 2014 when he set off for a jog around 7am on the Grand Union Canal towpath in the North London suburb.
He said: "I was just running along the canal and saw something in the water, which at first I thought was a bit of rubbish.
"Once I realised it was not and it was a chap lying face down in the water and unconscious, I started to dial the emergency services and while I was doing this, a schoolboy on his way to school spoke to the call-taker.
"While he was doing that, I climbed into the canal and got the guy's head above the water."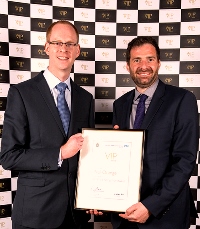 Advanced Paramedic Practitioner Ian Wilmer, who nominated Paul for a public recognition award, said: "Without Paul's prompt intervention, the patient certainly would have died.
He added: "Paul stayed with the patient until help arrived and informed the emergency services of what happened.  The patient was so seriously ill he required sedation and it was a significant distance down the tow path with no vehicular access making this quite a difficult job."
The patient was taken as a priority to St Mary's Hospital, Paddington, and was discharged a week later.
-Ends-
Notes to Editors
The London Ambulance Service VIP Awards is an event to commemorate the hard work and dedication of Service staff and members of the public.

For high resolution images, please contact the communications team at 020 7783 2286 or email [email protected]

Follow us on Twitter @Ldn_Ambulance and like us on Facebook