An inspiring paramedic based in Camden has collected a London Ambulance Service award for her outstanding achievement and contribution.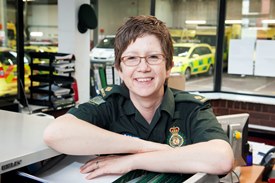 Team Leader Achanda Neale has become a role model who continues to inspire and support her colleagues every day, and even comes in every Christmas morning with her family to cook her team a breakfast feast.
Having worked with the Service for 13 years she was honoured on Wednesday (29 April) for her calm, positive and professional manner. During her career, Achanda has become a LINC worker, supporting her colleagues' welfare and wellbeing, a regular representative at clinical meetings and a mentor to her team.  
Paramedic Scott Lummes, who nominated Achanda, said: "She has gone above and beyond the call of duty and has made an exceptional effort to support me through times when I have attended jobs that I have found particularly difficult. She gave me fantastic support and feedback. If I hadn't had reassurance and support from Achanda, I don't think I would perform anywhere near as well as I do.
"She is definitely the sort of person I would like to be more like myself."
Achanda was one of 13 award recipients to be recognised and celebrated. 
She said: "I feel overwhelmed to be honest. It's a really nice feeling and I actually felt like I had won just by be being nominated.
"I'm honoured that my colleagues feel that the work that I do every day deserves an award and am proud to have won."
-Ends-
Notes to editors: