'Angel' paramedic recognised for saving man's life
A London Ambulance Service paramedic, dubbed a 'guardian angel', has won an award for bringing a man back to life while on a family holiday.
Mel Armstrong, 34, was on Brighton Pier with her husband and two children on New Year's Eve when she saw a man collapse at the slot machines.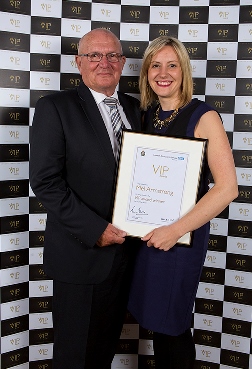 She said: "I heard a loud bang and I turned around and there was a man slumped against a machine. As I looked down, I could tell instantly he was about to stop breathing. I did CPR and after a few minutes managed to get a pulse back."
Mel cared for the patient, Brian Smith, until an ambulance crew arrived and took him to hospital, leaving Mel not knowing if he had lived or died.
By sheer coincidence, Brian's nephew Mark House, works as a clinical team leader for London Ambulance Service, and got word to Mel that his uncle had survived and was out of hospital and was incredibly grateful to her for saving his life.
Melanie has since met with Brian and his family and they have become firm friends. They plan to meet back on the pier this New Year's Eve to celebrate Brian's recovery.
Brian, 72, from Cheam, Surrey, said: "We normally go down to Brighton pier on New Year's Eve as a family. We got to the slot machines and someone turned the lights out on me and I went down like a sack of potatoes.
The grandfather-of-five, added: "If it hadn't been for Mel, I wouldn't be sitting here. She's my guardian angel. It was my lucky day that she was there. She didn't have to do what she did – she could have walked on, but she stepped up to the plate."
Mel, who has worked for the Service for 12 years and lives in Essex, added: "There were hundreds of people watching what was going on and as I left quite a few said 'well done' and shook my hand. I believe I was meant to be there that day and since meeting Brian, we just clicked and have formed a strong bond."
-Ends- 
Notes to editors:
The London Ambulance Service VIP Awards, held on 29 April, is an event to commemorate the hard work and dedication of Service staff and members of the public.
For high resolution images, please contact the communications team at 020 7783 2286 or email

[email protected]
Follow us on Twitter @Ldn_Ambulance and like us on Facebook at https://www.facebook.com/pages/London-Ambulance-Service-NHS-Trust/1429957480579429